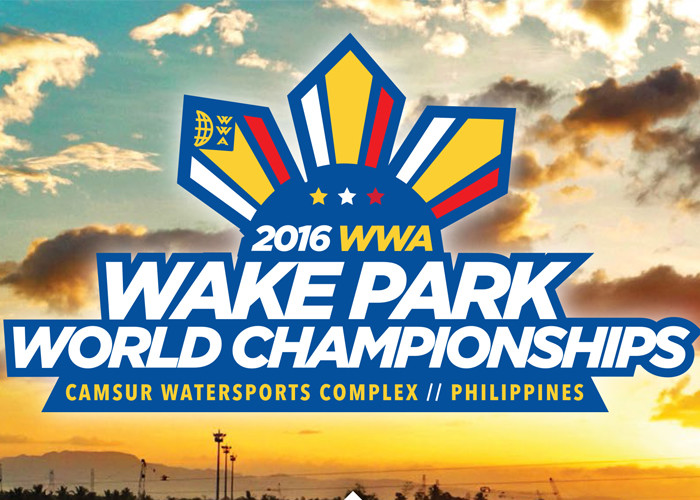 04 Oct

2016 Wake Park World Championships – CWC
2016 WAKE PARK WORLD CHAMPIONSHIPS – CWC
THE BIGGEST WAKEBOARD EVENT IN THE PLANET
Do you want to get yourself a world title?
The biggest Wakeboarding event is about to happen in the best wakepark in the World :
The 2016 Wake Park World Championships!
On October 29-31, 2016, at Camarines Sur Watersports Complex (CWC), Philippines, experience sports actions and tourist experience in full throttle.
Last season saw an amazing standard of wakeboard riding throughout the categories. This year is definitely the biggest because while showing the up-and-coming amateurs on the circuit, WWA and CWC will give promising riders a chance to 'get their feet wet' and try out a competition without any fear.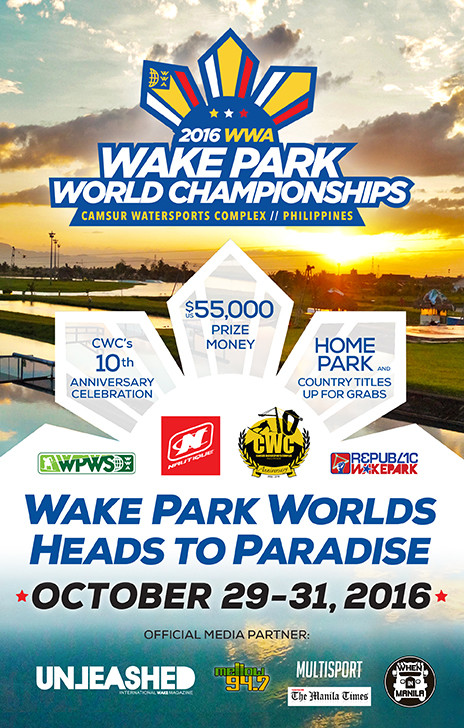 Register and book now, for this amazing experience!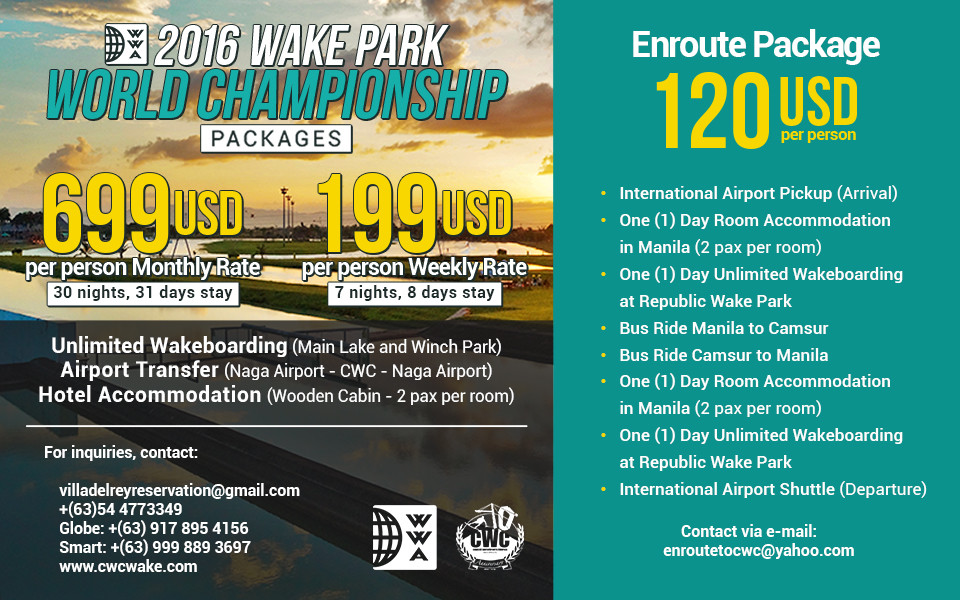 EXCLUSIVE PACKAGES for the 2016 WAKE PARK WORLD CHAMPIONSHIPS – CWC :
$120USD – Enroute Package to two wake parks: Republic WakePark in Nuvali and CWC
$199USD – Weekly Room Rate in CWC
$699USD – Monthly Room Rate in CWC
For more inquiries, please contact Charity Mendoza at charity.mendoza@postad.events
Book Now at CWCWAKE
More INfo and registration : THEWWA.COM

For more inquiries, email Post Ad Ventures, Inc., the official event organizers at info@postad.events
Make some Laps and discover the Spot With Nicolas LEDUC
More about THE WWA
The World Wakeboard Association is the global leader in wake sports sanctioning. The WWA owns and operates the WWA Wakeboard World Series, WWA Wake Park World Series, WWA Wakeboard National Championships, WWA Wake Park National Championships, WWA Wakeboard World Championships, WWA Wake Park World Championships, WWA Wake Park Triple Crown, WWA Pro Card and WWA Rider Experience. With 27 affiliate countries worldwide, the WWA is a rider-formed organization dedicated to promoting and growing wake sports worldwide. It is the primary source for riders, event organizers and competitive standards. For more information on the WWA and its events, check out www.thewwa.com