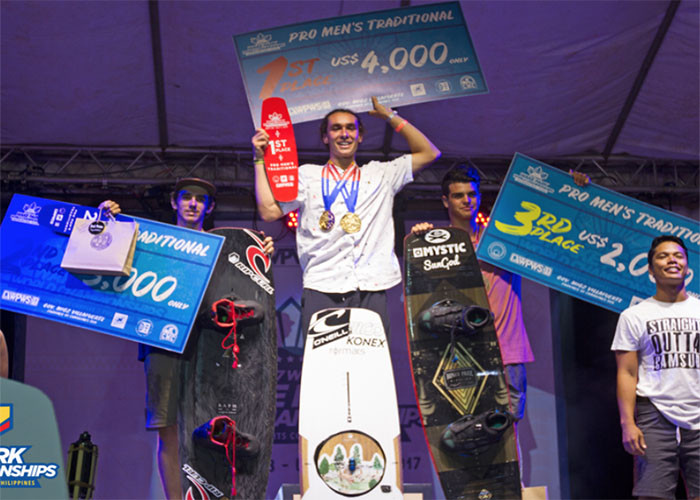 02 Oct

THE 2017 WWA Wake Park World Championships are finish !
Guenther Oka, Julia Rick, and Anna Nikstad Reign Supreme at the 2017 WWA Wake Park World Championships Presented by Nautique Boats

from RepublicFilms on Vimeo.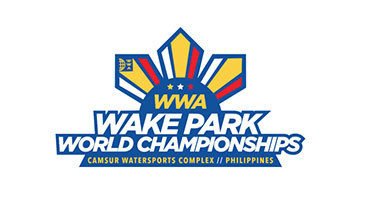 Camarines Sur, Philippines (October 1, 2017) – The Camsur Watersports Complex (CWC) provided the perfect destination for the 2017 WWA Wake Park World Championships presented by Nautique Boats. The final day of action showcased every feature to its full potential, leaving no question that CWC remains home to the most amazing riding in the world right here in paradise. Perfect weather kept the action moving all day long as the world's best threw down in the most progressive finals in ever.
Guenther Oka (USA) remains the champ-champ, once again taking World Titles in both Pro Men's Traditional and Features Only divisions. In Traditional, Oka proved that he is masterful in his tricks, style and strategy, utilizing his diverse skill set to drop hammers in every part of the course. Off the kickers, Oka threw his signature indy Pete Rose right off the dock and backed it up with a stale T/S B/S 720 that seemed as if he was never going to let go of the grab. His rail hits are nothing short of flawless with big, locked on 270 transfers for days. In the corners, he hit a 313, tail front-to-blind, mobe 540, and a KGB. In Features Only, perfect strategy saw him add a big H/S B/S 900 off the kickers and a massive 270 transfer to lock onto the top of the creeper box coming out the hard way for the win.
"I'm stoked to be back at CWC for year number two and to be standing on top of the podium next to these legends. A big thanks goes to the WWA and CWC for putting on this amazing event along with my sponsors and everyone out here pushing the sport and keeping it real. I'll see you guys next year!" said DOUBLE 2017 Wake Park World Champion Guenther Oka.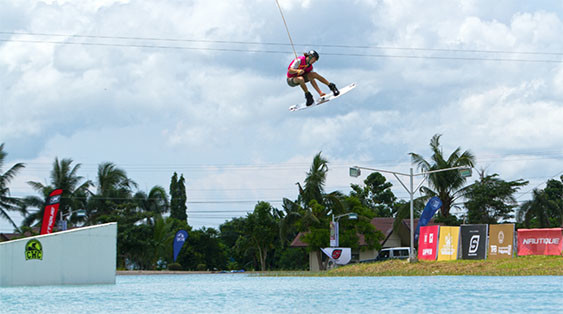 Defending Champ Julia Rick (GER) couldn't be shaken in the Pro Women's Traditional final, coming back after a first trick fall as the only female rider to hit a 90210 all week. She went on to land a solid switch 270-F/S 270 out on the firecracker rail and a H/S B/S 720 off the kicker. With consistent, dominating performances and the constant pursuit to push herself beyond what has ever been done, Julia has solidified herself to be considered currently the best female wakeboarder in the world.
"I'm just beyond stoked to become the World Champion for the fifth time in a row and I want to thank the WWA and CWC for organizing this event along with all my sponsors, my family, and everyone that supports me. Thank you very much!" said 2017 Pro Women's Traditional WWA Wake Park World Champion Julia Rick.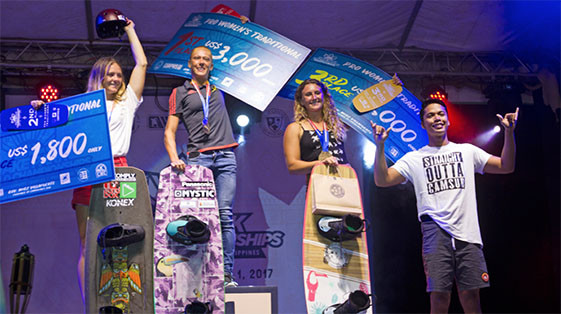 Anna Nikstad (USA) shocked the world, becoming the first ever female rider to land a Pete Rose 540 in competition during the Pro Women's Features final to take the title. Stylish rail hits that included a front board-rail2rail- B/S 270-B/S 450 out highlighted an incredible run that kept the crowd on their feet. Her intimate knowledge of every feature and legit style came into play and makes her a fan favorite every time she hits the water.
"It's been a good season! I'd like to thank everyone who supported me this year and all the ladies who killed it this weekend. Thank you to CWC and Governor Migz, the WWA and everyone who made this possible" said 2017 Pro Women's Features WWA Wake Park World Champion Anna Niksatd.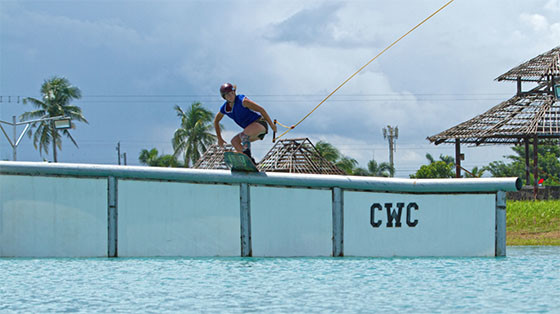 Andrew Pastura (USA) killed it for the win in Pro Wakeskate, starting off with a bigshuv off the kicker into a F/S shuv onto the long john wall, and a boardslide-F/S bigspin out on the creeper coping. He hit a switch front bigspin and a frontside flip in the flats and a bigspinfront board on the flat bar. Keeping his video part worthy run going, he hit a B/S flip to switch F/S flip in the corner and stomped a 360 shuv stalefish for the win. All three podium finishers had amazing, stand-up runs that could have taken down any contest on any given day and we were privileged to have the opportunity to witness it.
"I love coming out here, meeting new people and new wakeskaters. It's always sick to get to hang around a few extra days. It's an awesome place to come and I want to thank everyone who put this event together; Gov. Migz, the WWA and everyone who supports this," said 2017 Pro Wakeskate WWA Wake Park World Champion Andrew Pastura.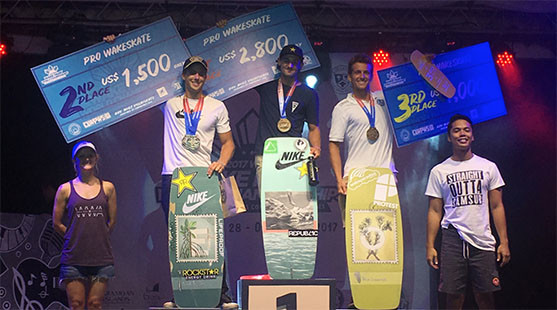 The 2017 WWA Wake Park World Championships was the fourth stop  of the
WWA Wake Park World Series (WPWS)
, held in paradise at the amazing Camsur Watersports Complex. To book your trip to CWC and see everything of the Camurines Sur, Philippines has to offer, visit
www.cwcwake.com
.
THE 2017 WWA Wake Park
World Championships are finish !
Check out more about this weekend on #unleashedwakemag
DAY 1 
DAY 2