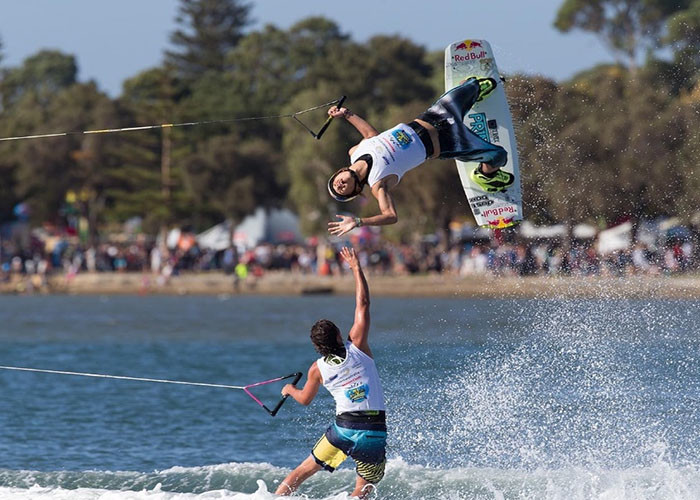 28 Nov

Action Sports Games 2018 in Bunbury

BUNBURY TO HOST ONE OF AUSTRALIA'S RICHEST
WAKEBOARD TOURNAMENTS

Event Dates: 3, 4 & 5 March 2018
Location: Koombana Bay and the CBD, Bunbury Western Australia

After four succesful years in Mandurah the Action Sports Games will coming on the shores of Bunbury, Western Australia. Bunbery is an amazing city, with beautiful beaches, flanked by amazing inland waterway's on the other side of the city. With a vibrant city lifestyle, fine restaurants, a world-class café strip and plenty of accommodation options, the city is the perfect setting for major sporting events, such as the Action Sports Games.
An event combining wakeboarding, freestyle motocross, skateboarding, BMX and scooter. Riders compete for a prize money of $22,000, which will maybe attract Australian's best action sports stars to Bunbury.
The pristine waters of Koombana Bay will host a world-class wakeboard tournament sanctioned by Waterski and Wakeboard Australia. Drawn to prime seasonal conditions, some of the world's best are set to call Bunbury home for the 3-day competition.
 "We are very fortunate to have access to funding through Tourism WA's Regional Events Scheme and the City of Bunbury to kick start this awesome event," said ASG Event Director Tim Thirsk. "Healthway, with support from the Local Drug Action Group, have also confirmed their involvement by taking up sponsorship for the naming rights to the event, which will not only allow us to promote the important drug aware message, but also with the extra funding it will go towards attracting world class athletes to Bunbury and Western Australia."
From the fantastic waters of Koombana Bay, it is just a short walk to the intercity CBD where the Freestyle Motocross, Skate and BMX competitions will be will be held in conjunction with the Food Truck Fiesta. The long weekend in March is set be a celebration of youth sports, music and food.
Bunbury Mayor Gary Brennan said he was excited that a high calibre event such as the Action Sports Games would be held in Bunbury. "Events that bring such a diverse mix of sports and activities to our City are important for the social and economic fabric of our community," Mr Brennan said. "Bunbury is rapidly becoming a location of choice for major events, which has been a major focus for the City, and we are sure everyone will welcome the competitors and spectators with open arms."
This major event is set to become one of the richest wakeboarding events in Australia and given the fact that it is held right before the Moomba Masters in Victoria, it will attract a top field of world class wakeboarders, fantastic media and promote the vibrancy of the City of Bunbury.
Action Sports Games 2018 in Bunbury