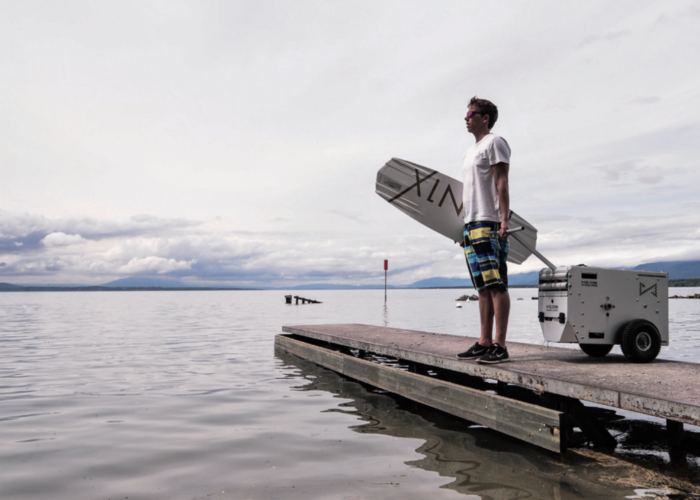 15 Apr

ELSIUM WINCH, when passion being a Job !

ELSIUM WINCH, how to transform a Passion in a reel Job !

Let's talk about the first winch that goes backwards and forwards. A few details about the right product, what kind of business model, the marketing, the distribution, and how to need them.
It is back on stage after ten years, having developed the first gasoline winch which was hydraulic. It was about doing things professionally by learning from the past.

If you want to democratize the sport you have to spread people with your products and they need to use it, if not you can't tell that « democratization »
For this product that goes without saying! It must be almost perfect: Portable, low noise, electric, continuous backward and forward, can run on asphalt, water and snow, no fixed installation, controlled remotely, customizable ride behavior.
For marketing it's more interesting. Rather than conceptualizing we
started our own place as we were in 2003: Motivated, less money, a network of friends and motivated riders.

If the Elysium Team went back in time with their staff what would they have wanted their personal winch to be like?
First time travel back in time:
What do you want?
"Give me a machine, I know people, I know some spots, I'm motivated and I will pay you the benefits until the cost of the machine is repaid."
Asking what we would want personally was a good starting point: Offer a type of leasing. By submitting this leasing offer motivated people can test the real numbers of owning their own cable. By doing all accounts the hidden costs are made apparent. These important details were clear:
– Wakeboarding is a seasonal activity and facilities are
depreciated. The seasons are short, sometimes wet weather and the customer is to acquire lots of equipment.
– We might work several years without earning a penny and without spending time with the girlfriend.
– When the cable is full, there is no right way to satisfy a customer that exceeds the capacity of the newly acquired facility (super-frustrating).
– When the cable fails outside the warranty, all goes to the whim of the manufacturer who sends an agent of the corner when he has time. And these are days /weeks of lost production, but many costs fixed to pay(wages, rent, etc.).


Back to the Headquarters:
For seasonality: Do pay when the machine generates profits.
– Living to cushion: No bank loans but a reasonable division of revenues and therefore risks.
– Saturated Installation: ELSIUM a book or additional machines. The fleet capacity following customer curve.
– Breakdown? ELSIUM will respond within 24 hours and if necessary replace the machine 72 hours later.
Second time travel back in time: What do you want ?
"I will sign with you a minimum contract of three months. I'm committed to turning the machine a minimum 4 hours per day, but maximum 20 days on months with 30-31 days. I will buy you a minute less than I sell at the price I want to my customers. If I have a technical problem I want an answer within 24 hours and a functional machine delivered to my spot 72 hours later max. If I have more success than expected there is preferential conditions for an additional machine."
And here's how the first "cable park with services" of the world was born. ELSIUM markets an experience. Beyond ELSIUM machinery will provide a full park on the same principle. ELSIUM support and advice to all administrative procedures, realistic simulations of revenues, accessories products (life jackets, boards, etc.), and we help you on your promotion.
What About You?
You continue to have a decent life while becoming independent. You keep your girlfriend and you feed yourself properly.
There is a life during and after the wake. However you focus on the essentials: Acquire and retain customers.
More information: www.elsium.eu , ernesto@elsium.ch

ELSIUM // ANYWHERE, ANYTIME from Michael Hartwell on Vimeo.