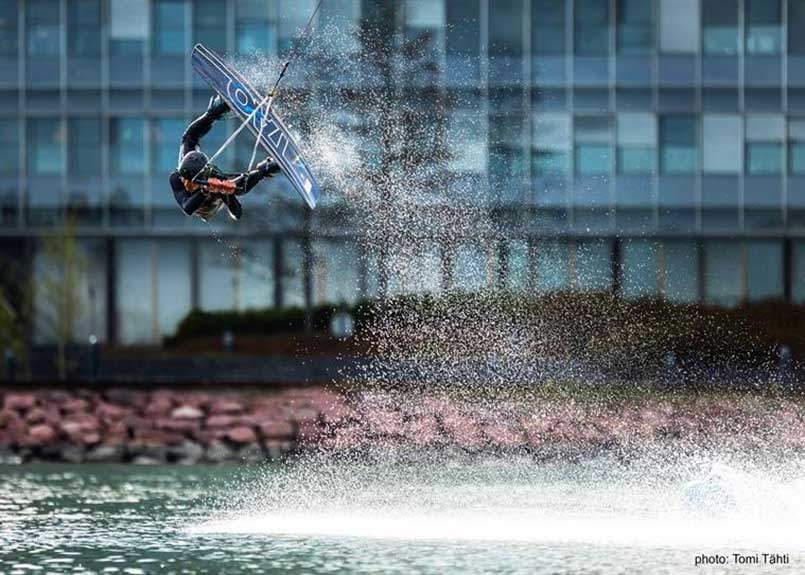 23 May

Finnish athlete breaks the world record of wakeboarding | Erkka Lehtonen

You never thought of that? Erkka Lehtonen did it !

Finnish wakeboarder makes a world record with a consecutive run of over 10 hours, despite falling down after 4 hours ! In addition to breaking a world time record, he had to wait for the ice to melt on the spot. Erkka hung on the rudder for 10 hours after falling in icy water (8°C). Indeed, Finland is known for its very cold winters where the polar night lasts 2 months and when you want to wakeboard, you have to develop another level of perseverance.
"There is definitely power in the audience. They helped me to maintain the positive mindset and keep holding on!", says Lehtonen.
Erkka Lehtonen, a Finnish water sports professional and entrepreneur, set a new world record of 10 hours and 15 minutes in cable wakeboarding on May 4th. He started his attempt at 6 AM but after almost 4 strenuous hours, he fell, and the clock was reset. Despite the surprising turn of events, Lehtonen decided to restart his performance and give the world record a second chance. The previous cable wakeboarding record was at 10 hours and 5 seconds, which meant that Lehtonen ended up wakeboarding for a staggering 14 hours. After the record was safely in the books, he snapped a selfie and did a cheeky backflip before calling it a day.
The record performance took place in water sports centre Laguuni, located in Espoo, Finland. Laguuni's cable wakeboarding track is powered by clean energy from solar panels provided by the neighboring clean-energy company Fortum. The solar panels produced around 23 kWh on the day of the world record The additional need was covered by a battery charged with solar power.
Fortum is a proud partner of Laguuni and an avid supporter of Lehtonen.
"The sun shone more and more during the day and the panels kept producing clean solar electricity. It's great that we were able to set a new world record with solar power and respect the environment", says Jussi Mälkiä, Fortum's Brand Manager.
Erkka Lehtonen
More about Laguuni
Laguuni is a water sports centre for all ages located in Espoo, Finland. In Laguuni you can find a restaurant and a variety of activities, i.e. stand up paddle boarding, wakeboarding, kayaking and a water trampoline. www.laguuniin.fi
Fortum is a leading clean-energy company that provides its customers with electricity, heating and cooling as well as smart solutions to improve resource efficiency. We want to engage our customers and society to join the change for a cleaner world. We employ some 9,000 professionals in the Nordic and Baltic countries, Russia, Poland and India. In 2017, our sales were EUR 4.5 billion. Fortum's share is listed on Nasdaq Helsinki.