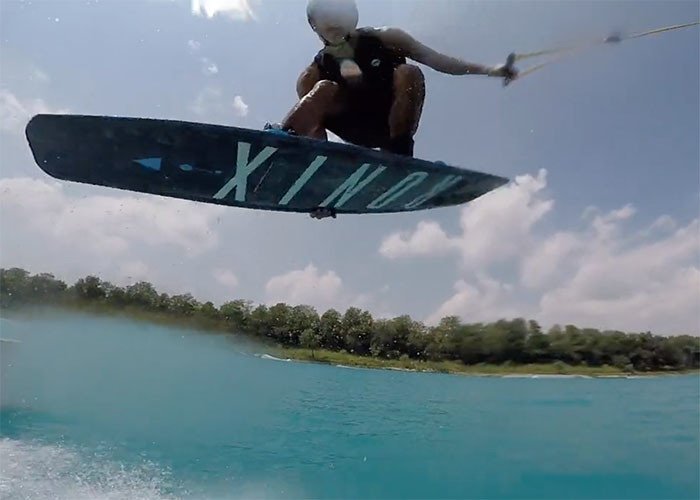 26 Jul

BUFUS | Giovanni Grossi & Mattia Zennaro

"BUFUS" is the last edit of Giovanni Grossi joined by his friend Mattia Zennaro at Cable 7 Treviso.


"BUFUS" from Grossi Giovanni on Vimeo.
BUFUS
Giovanni Grossi and Mattia Zennaro
---
More about The Spot : CABLE 7
You've been missing out and you must have been living under a rock, because it's becoming ever more popular, it's even at the verge of becoming an Olympic sport!
But it's never too late to start, so, in short:
– Wakeboarding is action on the water, but also in the air
– Wakeboarding is a bit like water-skiing, but a lot better
– Wakeboarding is for young, old and everyone in between
– Wakeboarding is easy to pick up for everybody, but always offers new challenges
– Wakeboarding offers an escape from stressful daily life, a chilled leisure activity
Love wakeboarding and can't wait for us to open?
This is the place for you and don't worry, soon we'll be off! We offer the best conditions for our favourite sport. Our facilities are of international standard – and if we become an Olympic sport and Italy is hosting the games: We're ready! But first things first, here are the details:
– Cable 7 is a full-size cable with five towers by the prestigious manufacturer Sesitec
– Cable 7 is a System 2.0 teaching and training cable system, also from Sesitec
– Cable 7 is endless features (Unit Parktech), already available to view on our website
– Cable 7 is competitions and tournaments with sports stars on an international level
– Cable 7 is state-of-the-art technology, because only the best tech makes the best fu
So, that sounds good, but what if you're not all about sport, sport, sport?
Then Cable 7 is the place of your dreams – and there's plenty for aquaphobes to do without wakeboards! Our park is much more than just sport, it's a lifestyle. Here everyone can have a great time – whether you're watersport crazy, an absolute beginner or even an aquaphobe. Sounds impossible? Not for us, – and this is how:
– Cable 7 is meeting friends, great conversation – and total relaxation
– Cable 7 is lying on the beach, relaxing in the sun – and watching great sport
– Cable 7 is high-quality food without inflated prices – from snacks, to quality ice cream, to complete menus
– Cable 7 is chilling and grilling – in the unlikely event that you can't find anything on our menus
– Cable 7 is company events and team building – the best trip for you and your staff
We offer top-quality facilities, a pleasant environment, finest kitchen and bar food, music every night at sunset, from techno, to lounge, to nights with famous DJs. Find everything you need in our Pro Shop – and our own brand of merchandise. And for shopping on a bigger scale: We're only 25 kilometres to the Designer Outlet Store in Noventa.
Like we said: We've caught the bug – and soon you will too – that's a promise!