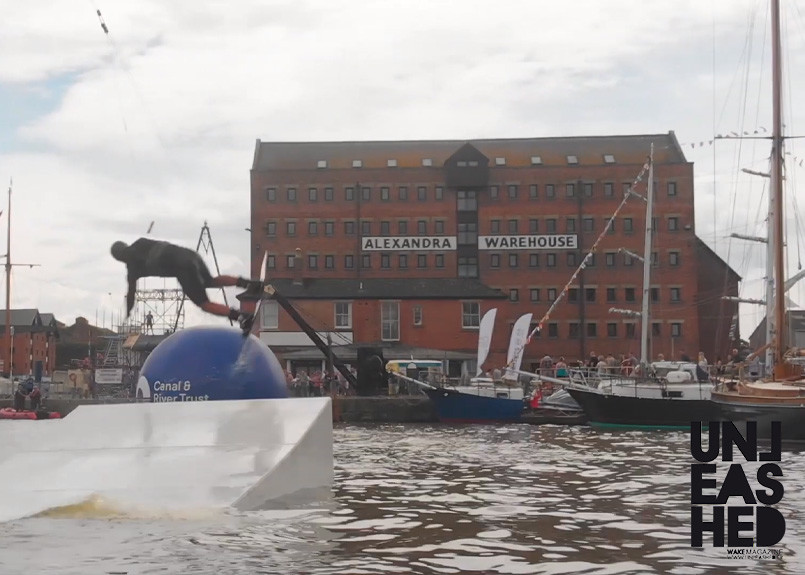 14 Jun

Industry Pro Wakeboard Tour | Gloucester Tall Ships

All the antics and action from the Industry Pro Wakeboard Tour at Gloucester Tall Ships and Adventure Festival. Check out what went down and who won what !
Highlights
From Industry Wake Parks UK on Youtube.
All events on Unleashed Wake Mag !
Industry Pro Tour
The Industry Pro Tour takes the explosive, awe inspiring sport of Wakeboarding to the heart of large maritime events and a variety of existing and well attended festivals. We will be installing bespoke, world class wakeboard parks in harbours, marinas, docklands and lakes all over the British Isles.

The towing device for the tour, a System 2.0 cable, is installed over the water along with a 'floating skate park', consisting of purpose built ramps and rails for the wakeboarders to launch themselves off and perform a host of unreal feats of edge of the seat athleticism. The best wakeboard athletes from the British Isles as well as key international riders compete at each stop for not just the individual tour stop cash and honours but the big cash purse and prestige that comes with taking down the overall tour title.

The Industry Pro Tour concept is simple; take the sport to the people, showcasing wakeboarding to tens of thousands at existing large events and festivals. The partnerships we form with these already well established mass attendance events not only adds an incredible amount to the events themselves but gives the sport, the tour and the tour sponsors a huge captive audience and all the benefits that come with this!
-pro wakeboard tour gloucester-