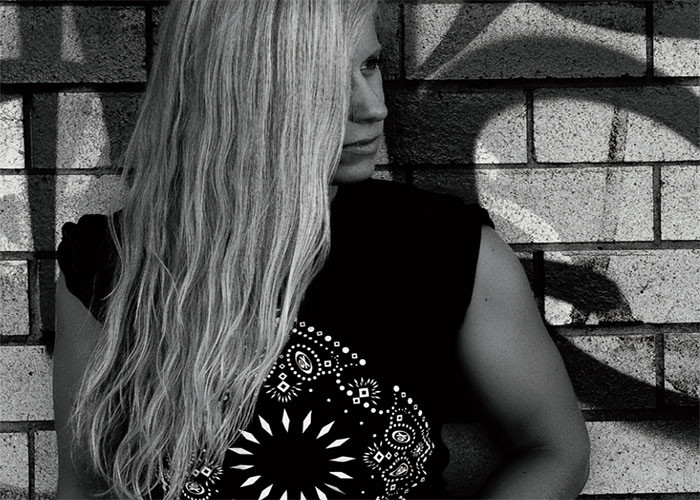 16 Jun

INTERVIEW | CHARLOTTE BRYANT

Posted at 17:06h

in

Women

Ever wondered what it would be like to travel around the world doing what you love? Well for Charlotte Bryant wakeboarding is what she loves and traveling around the world is how she does it. Lucky girl.

How did you start wakeboarding?
Freddie Carter and his sister Fran asked me try it behind this little boat on our holiday to Cyprus. They then took me down to JB ski in London and I gave kneeboarding a try. I did find it fun and then I tried wake boarding and I was hooked.

Do you do any other boardsports?
I can snowboard and surf. well kind of.. Haha! I just need to give myself a bit more practice.

What do you like the most about wakeboarding? What do you dislike?
I love the vibe of riding with the girls out at Cables wake park in Australia. We have such a good crew here! I also love the feeling of landing new tricks, or scaring yourself so silly and when you survive you are so relieved! I hate how serious it can get at some point, I just need to remember the reason I started is because it's fun! The business aspect of it can take over sometimes and I just need to remind myself why I started.

Name a trick you would like to do one day?
Heelside 900 off the Kicker and a Kgb on the boat.

Name the best tricks you land everyday?
Late to roll to blind and a tootsie are my go to tricks on the boat.

Which do you prefer, rails, kickers or air tricks ?
When I am riding cable I try to mix it up with a bit of everything. I like to be an all around rider and work on all aspects of the sport.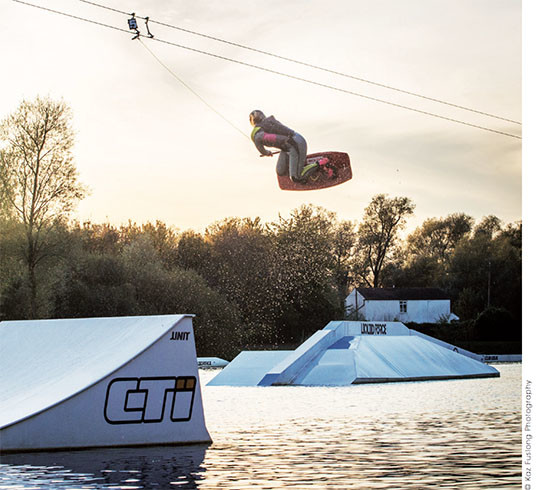 If you could have a session with anyone, who would it be?
On the cable I love riding out at cables with Courtney Angus, Marilyn Pruitt and Tor Young. The stoke is always so high and we have a blast!
On the boat I love to ride with the Waldrops out in Orlando.
Which rider male or female inspires you?
Male rider – Raph Derome is awesome to watch he kills it on the boat and cable! Love seeing people who can ride both!
Female rider – Dallas Friday has always been an inspiration to me. She is always so ballsy and kills it on a wakeboard, even after a baby!
Is it dif cult to be a female rider in this male world?
No I wouldn't say it's easy. I know there are more males in the sport so that is why there is always more exposure for them. But it doesn't mean the females don't work as hard as them. With having girls out there that are pushing the sport and that could probably beat some of the guys! We are trying very hard not to be left behind!
Tell us a bit about your home spots?
My home spot is Liquid Leisure. So I have a pretty amazing spot, I have a sick boat to ride behind and Stuart is always making the cable better and better! I 100% need to get out on the cable more this season. I just get sidetracked and end up riding the boat mostly!
Do you always ride alone?
Not in the winter when I am in Australia I ride with the Cables crew and in Orlando I have the girls, Hollie Waldrop, Taylor Mccullough and Raimi Rutledge. At home though I pretty much ride on my own.
Do you ride the whole year?
Yes I have lived the endless summer for the past three years. It's great because I am not a fan of winter. I do always make sure that I take a couple of months off during the year as it is good to rest your body and focus on the gym.
Do you travel quite a bit because of wakeboarding?
I traveled a heap last year, I think I went on a total of 15 flights and 22 different destinations! So a lot of sky miles!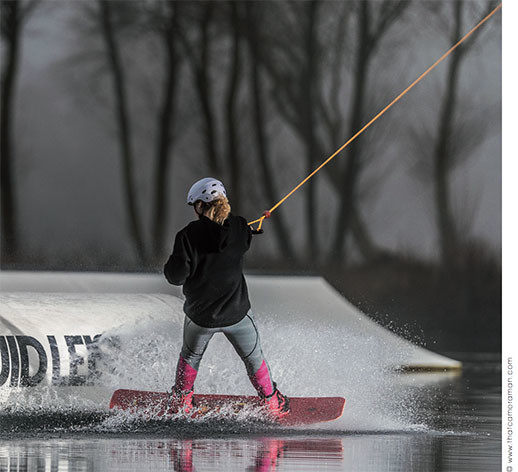 Tell us about your training routine.
I try to train as much as I can. In the winter I focus a lot on the gym side of training to try and make sure that I am strong for the upcoming season. When the comp season hits I don't go to the gym as much as I am riding a lot more. But I try to ride 5/6 times a week on the boat.
What is your main goal for 2017?
I want to improve my riding, get more style and push myself and tick off some tricks on my trick list.
Any contests ahead?
I just got an invite to the World Games which I am stoked about. This contest only runs every 4 years after the Olympics. It is a really cool contest with a big following as there are 100's of other sports at the contest. Other than that one just the standard UK Nationals, Europeans, Worlds and the European tour.
Tell us your ranking in 2016?
In 2016 I claimed my 8th UK national title, which was nice.
What can we hope for you in 2017?
Wish me luck in the world games. I got silver in the last event I want to better that and get gold! It will take a lot of hard training though there are some really really good riders out there that are up and coming!!
Any shoutouts?
A shoutout to Mastercraft UK, Extreme, Hyperlite and Protec for the support!
CHARLOTTE BRYANT
Instagram: @charlottebryant
Facebook: Charlotte Bryant