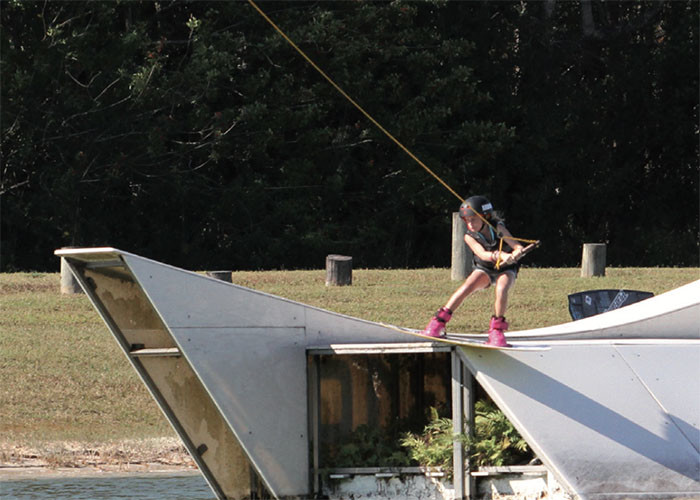 28 Jun

LOCAL HERO | KOKO ADAMS

Posted at 19:41h

in

Youth
Hi I am Koko Adams, also known as KoKo. I'm from Springfield Ohio and I am 11years old. My home park is Wake Nation Cincy but I drive five hours to Action Wake Park in Michigan.
---
Name : Kaitlyn Adams
Nickname: Koko
Age: 11
Sponsors: Liquid Force, Sun Bum, Phunkshun Wear,
Action Wake Park
---
How did you get started wakeboarding?
I got started at Wake Nation Cincy at a Liquid Force free for all.
Do you do any other board sports?
I Snowboard in the winter.
What do you like the most about wakeboarding?
I like to travel and I like the feeling of gliding across the water.
What do you dislike?
Not enough events for us girls.
Name a trick you would like to do one day?
I really want to perfect my crow mobe.
Which do you prefer, rails or kickers?
I love them both but I think I am better on the rails.
If you could have a session with anyone, who would it be?
I have had my dream session. I got to ride with Julia Rick for an entire hour!
Tell us a bit about your home spot?
My home spot is Wake Nation Cincinnati but I travel to Action Wake Park in Michigan every weekend.
Do you always ride alone?
I try not to ride alone but most of the time I am the only girl on the water.
What Wakeboard or Snowboard LEGEND are you a fan of?
My Wakeboard legend is Julia Rick and Louie Vito is my all-time favorite Snowboarder!
What are your goals for 2017?
My goals for 2017 are to have more fun than 2016 and to do well in the ladies Pro division.
Any shout outs?
I would like to thank my sponsors – Liquid Force, Sun Bum, Phunkshun Wear, Action Wake Park and my Mom and Dad!! Thanks a lot UNLEASHED for putting me on the Unleashed Young Team!
LOCAL HERO – KOKO ADAMS
Pro Wakeboarder and Snowboarder