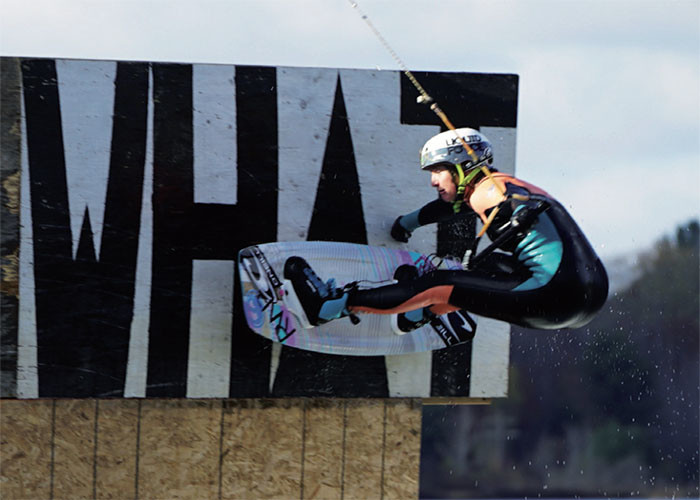 15 Jun

WHAT MATTERS WITH ERIKA LANGMAN

Posted at 12:34h

in

Women

WHAT MATTERS WITH ERIKA LANGMAN

Name: Erika Sandra Langman
Birthdate: April 15th
Hometown: Collingwood, Ontario, Canada
Sponsors: O'Neill, Liquid Force, Dragon Alliance
Stance: Regs
---
What makes a wake park session cool?
I love riding at parks that have a variety of features. That way you can practice spinning different ways, and really get comfortable with a trick on something small before stepping it up to the big-girl features.
What makes a wakeboard trick look cool?
Going massive to the point where you look like you are in slow motion, and grabbing all the way through.
What makes a wakeboard boat session cool?
Having all your friends there of course! That, and bluebird skies, glassy water, good tunes and new trick Tuesday vibes.
What makes a winch session cool?
The search for new and unique hits. I love scoping out different spots, and keeping a list of potential spots for big rainfalls, or early Canadian season when the rivers are high.
What makes a video edit cool?
One that encompasses all wake disciplines. I have mad appreciation for riders who can hold their own behind the boat, on the cable and throw in some unique winch hits.
What makes a photo cool?
The lighting. You can do a trick 100 times but it will always look better when it's shot during the golden hour.
What makes music cool?
I'm a classic folk girl. I love songs that are easy to sing along at the top of my lungs while driving with the windows down. That and 90's gangsta rap.
What makes a rider (Man, or Woman) cool?
My favorite riders are often the ones who are friendly, and are always having fun no matter where they are and who they are with.
What makes a board cool?
I'm going girly on this one and will have to say the graphic. There are a ton of amazing boards on the market these days all with top notch technology. It's honestly so hard to choose on specs alone. For example, I choose to ride the Raph this year for a few reasons, one being Raph is a fellow Canadian and friend, two being that it's got a stellar tech rating, but primarily because it has a bad ass matte-black wolf graphic on the top.
What makes friends cool?
They have your back no matter what, and are always down to go on adventures with you.
What makes a boyfriend cool?
They have your back no matter what, and are always down to go on adventures with you, with a few perks on the side 😉
What makes a huge fall Cool?
When you can get up right afterwards and laugh at yourself with your friends.
What makes a huge new trick landed cool?
The stoke you feel from landing something new!
What makes a ride cool ?
Ride can refer to sooo many things. I.e. My car, my boat, my bike, my snowboard, my wakeboard, my surfboard, my kiteboard… I guess the coolest rides are the ones that make you feel like you are flying.
What's the most important thing in order to progress?
Participating in all types of boardsports. I've learned so much from surfing, snowboarding and kiting that can be applied to differentiating myself as a rider. That, and remembering that wakeboarding is always supposed to be fun!
Any shout outs?
My sponsors for setting me up with all the tools I need to shred: O'Neill, Dragon, and Liquid Force Wakeboards. All my rad family and friends – thank you for making my life so fun and exciting!