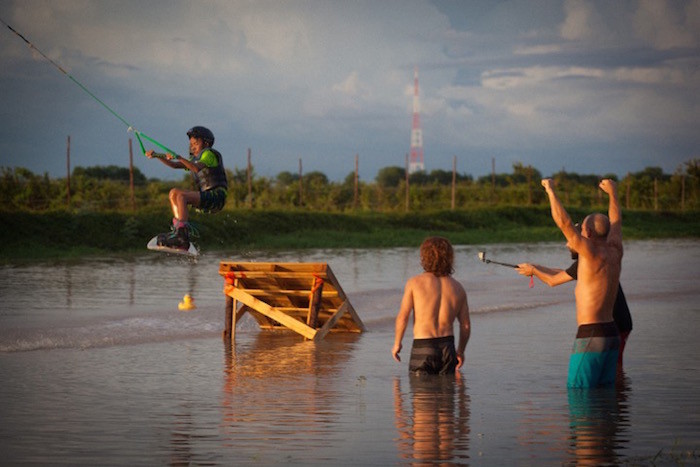 21 Oct

NAUTIQUE TEAM SERVES IN ASIA – OPENS FIRST CABLE PARK IN CAMBODIA

Nautique athletes Shaun Murray, Bob Soven, Raimi Merritt and Emily Durham traveled from Orlando, FL to Cambodia this past week along with Nautique and Aktion Parks staff as part of a Nautique Cares initiative. The group joined the owners of Kam-Air Wake Park, Alf Evans and John Phifer, whose vision is to use the sport of wakeboarding as a platform to make a positive impact in the area.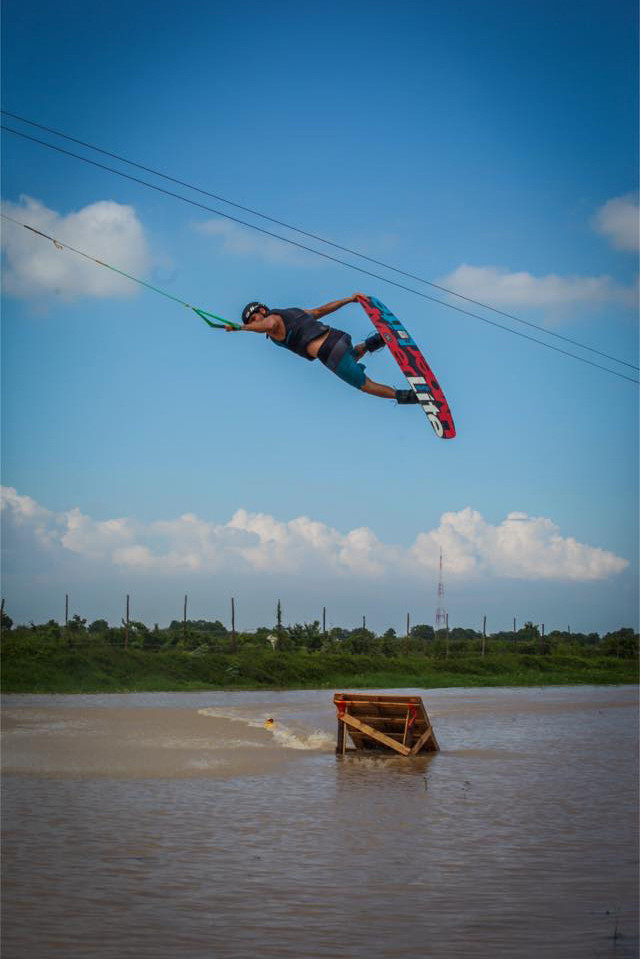 Upon their arrival, the team delivered food to 150 needy families working in brick factories, visited organizations fighting human trafficking, and worked with several locals at the Kam-Air Wake Park offering inspiration and wakeboarding instruction. Officially opening this past Saturday, The Kam-Air Wake Park is Cambodia's first and only wakeboarding facility with a mission to "Create liberty for the oppressed through action sports." With four of the best wakeboarders in the world in attendance along with over 50 locals, the park celebrated its opening day with an amateur wakeboarding contest and a demo from the Pro's on the first and only kicker ever built in Cambodia.
Cambodia's national newspaper "The Cambodian Daily" featured a story on their front page regarding the Nautique Cares team's visit and the work being done by Alf Evans and his partner John Phifer. Evans and Phifer do not simply wish to provide employment to young people but to also help them become role models within the community.
"Our Nautique Cares initiatives continue to make a significant impact around the globe. We are excited to have had the opportunity to work with Alf and John and support their work at Kam-Air Wake Park to uplift the people of Cambodia," stated Nautique President Greg Meloon. "The Nautique team is dedicated to helping those in need, and we are happy to have once again been able to include our world-class professional athletes who offer inspiration to everyone they meet," Meloon added.
Nautique, a subsidiary of Correct Craft, continues to expand the Nautique Cares initiatives that are having a significant impact around the world. The Nautique Cares initiative started eight years ago and includes serving both our local community and taking employees on service trips around the world. Over the last several years Nautique employees have served in Salvador, India, Ethiopia, Kenya, Uganda, Dominican Republic, Haiti, Nicaragua, Guatemala, Mexico and the Apache reservation in Arizona.
About Nautique Boat Company
Celebrating 91 years of excellence in the marine industry, Nautique is a subsidiary of Correct Craft and has been on the waters of the world with a passion for innovation since 1925. Nautique is known to push the envelope of possibility on the water, and our family of owners have come to expect nothing but the absolute best. The Ski Nautique 200 has changed waterskiing with 19 world records, the G-Series has won numerous awards for wakeboard boat and wakesurf boat of the year while unlocking new possibilities in wakeboarding and wakesurfing, and our Sport Series has given families endless days on the water without compromise. Through our Nautique Cares initiatives we're dedicated to not only making a difference on the water, but to people in need around the world. The world's best ski boat, world's best wake boat, and a company that cares. To learn more visit Nautique.com.
Find us at:
www.Facebook.com/NautiqueBoats • www.Twitter.com/NautiqueBoats • www.Instagram.com/NautiqueBoats • www.YouTube.com/Nautiquesdotcom