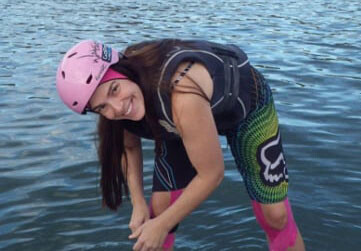 Natalie "GrandSlam" Graham is a veteran competitor. She has many past National and World Titles, and is a Guinness World Record holder, too. She loves to be on the water and also enjoys helping other riders progress!! She's from Australia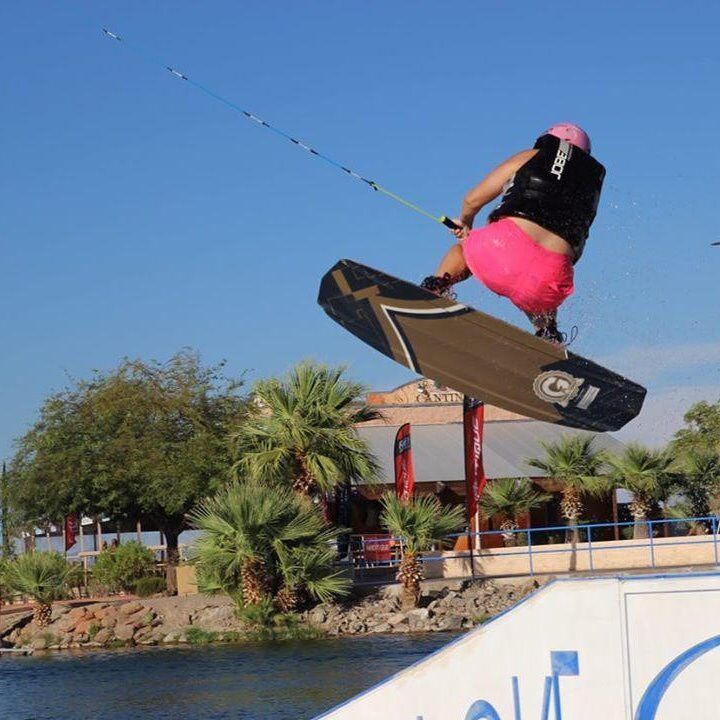 How did you start wakeboarding?
In 2008, Natalie's husband bought a wakeboard and after a ski set, Natalie tried the wakeboard and got up first try! In 2014, an injury sidelined her and allowed her to explore wakeskating….it didn't take long for wakeskating to become her preferred wake
Do you do any other boardsports? :
Yup – Snowboard, Flowboard, skateboard,even sandboarding
. What do you like the most about Wakeskating?
The freedom you feel while out on the water – it doesn't matter if you are out improving your style or tightening up your fundamentals or landing a new trick – being on the water nourishes my soul
What do you dislike ?
I dislike injuries – Injuries SUCK!
Name a trick you would like to do one day ?
It would be awesome to land a kickflip one day! I need way more height to make that happen
Q6:Which do you prefer, rails or kickers ? : Rails – because you have more time to do tricks while on the rail
If you could have a session with anyone, who would it be ?
My dad. He drove us waterskiing when we were kids – he died in 92 and he never knew this wakeboarding/wakeskating side of me and I think he would have enjoyed this
Q8:Tell us a bit about Your Home Spots? : Wakeboard Island in Parker, AZ – it's a 2-tower system run by the most encouraging people!!!! I also ride at Saguaro Lake in Mesa, AZ. I prefer the park over the lake – but that just boils down to personal preference
Do you always ride alone ? Nope – I typically ride with my husband
Any shout out ? Wakeboard Island in Parker, AZ and to the Saguaro Lake Crew