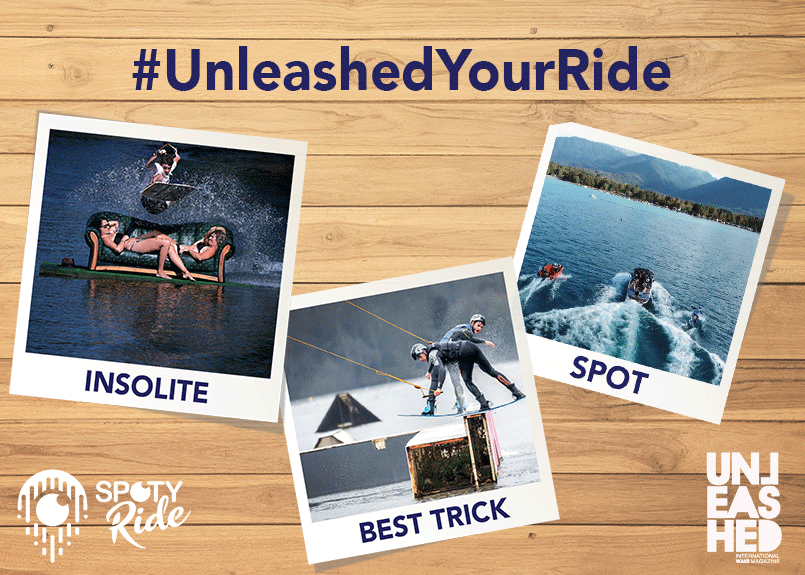 30 Jul

Unleashed Your Ride | International Photo Contest

With the Unleashed Your Ride contest organized by our partner Spotyride, we are able to achieve what we what we wanted for a while : a virtual challenge that gathers everyone of the world of wake ! Amateurs, professional riders, brands, spots, all will be able to express themselves thanks to this international photo contest. We explain it all in this article !
Rewards
We know that's what interests you the most ! Here's what you can win with Unleashed Your Ride:
A check of 100€ in equivalent local currency
100€ Spotycrédits credited to the winner's account and to be used on SpotyRide in the future
A surprise grand prize between 200 and 600€ in value. We do not say more, follow us and you will know everything soon 😉

Who, where and how ?
Everybody can participate, no matter your age, your wake level or your photographer skills ! Just follow these three steps to compete :
PUBLISH a wake-related picture (wakeboard/wakeskate/wakesurf)
ADD the hashtag #UnleashedYourRide to the picture
LIKE the Spotyride page on Facebook or follow Spotyride's account on Instagram
As an international game, three zones have been defined : North/South America, Europe/Africa et Asia/Océania. These areas have been chosen so that each continent have winners and receive rewards. But i see your globe trotter question coming : I live in the USA and I took a picture in the Philippines, in which area am I ? In fact, you can take photos wherever you want and as many times as you want, you will automatically be admitted in a particular zone depending on the profile completed on Facebook or Instagram.
Categories
With Unleashed Your Ride, creativity is in the spotlight ! We chose with Spotyride three categories to show your rider and photographer talents. First, the Best Trick one for pure riders ! We believe in you to give your best… In second the Spot categorie, Spotyride's love, to make the most beautiful spot picture. In third ans it is necessary for all tastes, we chose the category Insolite. Please amaze us, make us laugh or surprise us, we let you the choice of how you do it, no constraints !
For information, each zone has one winner per category. These winners will win 100€ and 100 Spotycredits. The super prize will be won, by zone, by the Overall winner, i. e. among the three winners of the previous categories, the jury will choose one grand winner. If you understood correctly there will be a total of 12 Unleashed Your Ride winners!

Process
Here is the schedule of the contest :
1 August to 18 August at midnight = Pictures from the community will be shared on social media.
19 August to 21 August at midnight = Pre-selection of the 27 best pictures (3 per category) by the jury.
22 August to 26 August = Publication by SpotyRide of the pictures selected by the jury. Up to 6 pictures will be published per day.
22 August to 31 August = The community will vote through social media engagement.
1 September = 9 winners will be announced.
1 September to 4 September = Jury votes on the grand prizes
5 September = Winners of the grand prizes are announced
Juries
We discussed the fact that amateurs, spots and brands were an integral part of the challenge but professional riders ? It was decided to give them power by including them in the competition jury. For each zone, one or more professional riders will be a member of the jury and will judge the photos to make a pre-selection. So it is the professionals who will judge the participants ! Maybe your photo will be pre-selected by Daniel Grant or Dominik Henler… These professionals will judge the Best Trick and Insolite categories. The Spot category will be judged by the professionals of the Spotyride team, of course.
Finally, the final jury is… you ! After the pre-selection made by the two juries, the selected photos will be distributed on Spotyride's social medias and the community will decide the winners of Best Trick, Spot and Unusual ! We will tell you how at the time. Then the Overall winner will be chosen by the professional juries.

Share until August 18
Now you know everything about Unleashed You Ride, share your pictures until August 18. Do not forget to follow us on social medias, we post a lot, including news about which professionals riders and what grand prizes will be chosen. If you have any question, contact us directly on Facebook.
If you want to read (good luck) the entire rules of the contest, it's here : Contest rules and regulations unleashed your ride.
At the moment and until August 18, just post your picture with the #UnleashedYourRide hashtag and like the Spotyride account, we will back to you soon !