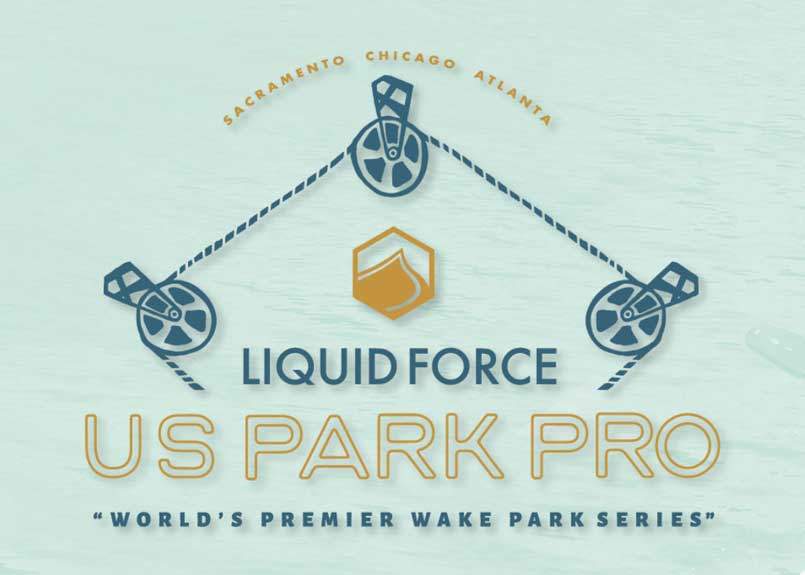 20 Mar

US PARK PRO 2019
US PARK PRO 2019 , Registration Open !
LIQUID FORCE ANNOUNCES THE US PARK PRO SERIES
Liquid Force is excited to announce the launch of the US Park Pro. This unique wake park event will take place at three of the best cable parks in the US. The series is going to run 3 weekends in a row in June of 2019 with the kickoff event happening in Sacramento, CA over the weekend of June 6th and 7th at Wake Island. The second event will be held at The Quarry on June 14th and 15th just outside of Chicago, and then the series wraps up in Atlanta at Terminus Wake Park on June 21st and 22nd.
"Park riding is growing every year in the US, but the athletes here haven't had a way to show off their talents. Up until now, most of the pro events have been hosted overseas. The Liquid Force US Park Pro is the first professional series in the US in years that will bring the best riders from around the globe to compete at 3 different parks here in the States. Although this is a combined series, each stop will be a unique event with its own format. Additionally, we're very fortunate and thankful that the series is being managed by the King of the Cable, Tom Fooshee. Tom has more knowledge about park riding than any other person in the sport. Tom is the vision behind the US Park Pro which makes all of us here at LF very confident that this will be the best park event ever!" -Aaron Grace, Liquid Force Director of Marketing.
Tom Fooshee had this to say about the event "I am beyond stoked to announce the 2019 Liquid Force US Park Pro! This is the premier professional full-size cable park series in wakeboarding… I am taking a step away from competing so that I can use my 15 plus years of experience as both a rider and a judge to create a brand new and unique platform for these events. Not only will the series display an exciting and creative feature layout, but it will also incorporate new evolving formats and scoring. I am also extremely excited to accommodate our foreign and domestic riders by creating three back to back to back weekends that makes it easy on their wallets, and potentially walk away with a pocket full of prize money! As the chief judge and tournament director, I can assure you that this will be a breath of fresh air in the world of full-size park events. I cannot wait for everyone to hear and see what we are doing to change competitive park riding with the 2019 Liquid Force US Park Pro Series!"
For updates on the Liquid Force US Park Pro, be sure to check www.liquidforce.com
About Liquid Force: Founded in 1995, Liquid Force is a worldwide leader in wakeboard, wakesurf, wakeskate, Wakefoil, and kiteboard gear and accessories. Liquid Force is dedicated to Relentless Innovation, progressive design, maximum functionality, unparalleled quality, and the pursuit of Unlimited Fun! For more information, visit www.liquidforce.com.
About The WWA: Celebrating 30 years of excellence in wake, the World Wake Association stands as a global network of passionate representatives dedicated to the growth of wakesports worldwide. Developed for riders by riders, our mission and values remain true to the core of our community since 1989. Our position as the authority on competitive standards has been earned through consistent development; sanctioning and producing more than 12,500 worldwide events and counting. We are the only organization solely focused on the best interests of the sport, spearheading a collective movement on the journey to discover where wake takes you. The WWA owns and operates the WWA Wakeboard World Series, WWA Wake Park World Series, WWA Wakeboard National Championships, WWA Wake Park National Championships, WWA Wakeboard World Championships, WWA Wake Park World Championships, WWA Wake Park Triple Crown, WWA Pro Card, WWA Rider Experience. For more information on the World Wake Association, check out www.thewwa.com.
US PARK PRO 2019