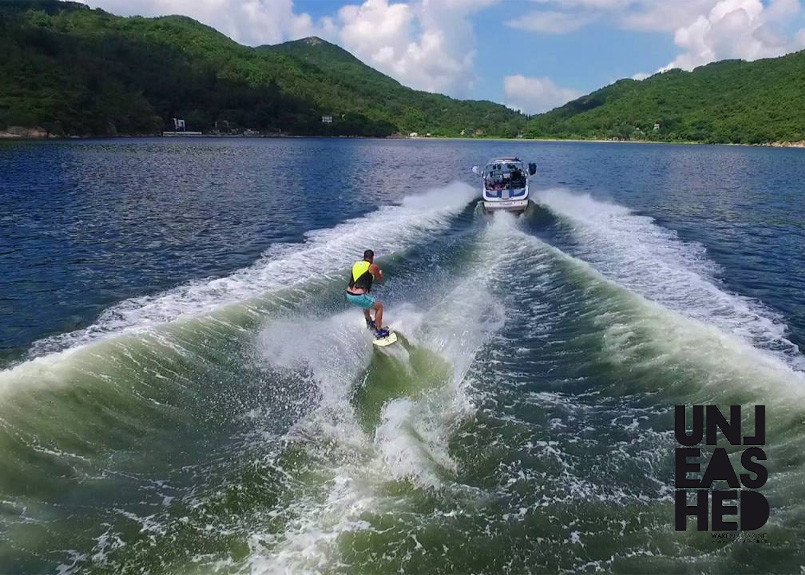 28 Aug

4 best places to wakeboard in Hong Kong

With many bays protected and perfect swells, Hong-Kong is a dream place to pratice boat wakeboarding. Just watch Julian Shamdas making hits for instance. Here are the four best places for you and your friends !
263 islands
Amid the sweltering heat of Hong Kong's summer, what outdoor activity can possibly beat wakeboarding with your family and friends ?
Towed behind a speedboat, riders use the wake from the boat rather than the water's natural breaks to hit the air and show off their best tricks. Don't worry if you're new to the sport, there are many coaches in the city and they can help with renting equipment and a boat. Hong Kong's unique geography of 263 islands and rugged coastline makes it perfect for wakeboarders to cruise along calmer waters, undisturbed by incoming swells from the South China Sea. Here are a few places you can guarantee a good time at sea.
1- Tai Tam Bay, Hong Kong Island
On the southside of Hong Kong Island, Tai Tam provides a large, protected bay for wakeboarders. It is fairly convenient to get to. Take 6X bus from Central to Stanley Prison where wakeboarding speedboats are available for hire with experienced boat drivers that can give you a few pointers on improving your skills. However, it is recommended you check the weather first as a strong east wind can make the sea quite rough around the bay.

2- Deep Water Bay, Hong Kong Island
Nestled right around the corner from Aberdeen Typhoon Shelter, Deep Water Bay is a popular anchoring destination for yachts and wakeboarders. Accessibility could not be easier with Deep Water Bay being only 20 minutes drive from Central via the Aberdeen Tunnel. Wakeboarders can enjoy the view of Hong Kong's most luxurious yachts while gliding along calm ocean waters on the back of a speedboat. When Deep Water Bay gets a little too crowded, wakeboarders can head over to Repulse Bay where a similar experience awaits.

3- Sai Kung Harbour, New Territories
Sai Kung Harbour is one of the most popular places to wakeboard in Hong Kong. You will often see experts pull off flips, 720-degree spins and all sorts of cool tricks. The harbour is rarely affected by incoming swells because of its protection by nearby islands. Although it may get crowded on the weekends, its large area offers plenty of space for speedboats to cruise along. Sai Kung offers a wide variety of high-quality inboard and outboard speedboats available for hire, including top-of-the-line Malibu boats and MasterCraft boats that can provide wake-surfing as well. Not to mention its proximity to Sai Kung town, where some of the best seafood in Hong Kong is served. How to get there: Take the 101M bus from Hang Hau MTR station.

4- Tolo Harbour, Tai Po
Tolo Harbour offers vast amounts of space and calm waters for wakeboarders to shred. The harbour is well protected from all directions and does not contain heavy boat traffic. It has arguably the calmest waters to wakeboard in Hong Kong. In-board speedboats are available for hire starting from HK$500 an hour. Wakeboarders can enjoy the views of Plover Cove Reservoir as they ride along. How to get there: 72A bus from Tai Po Market MTR Station.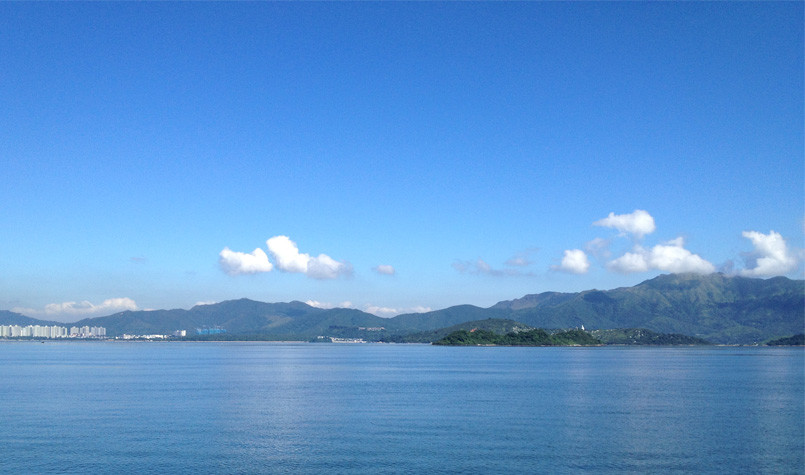 Informations from our partner, South China Morning Post.