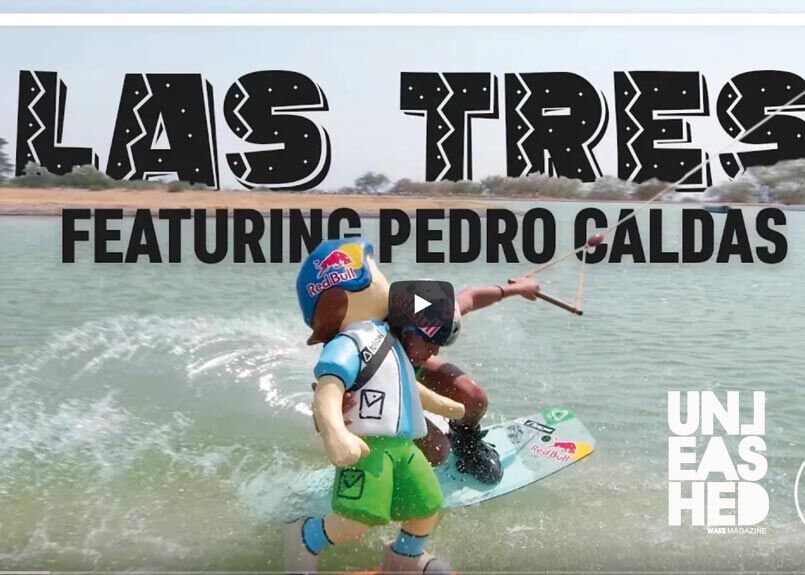 27 May

PEDRO CALDAS Las Tres !
PEDRO CALDAS Las Tres , the new edit from Dave AV for Hyperlite
Pedro, Caldas las Tres : Fireworks, exploding heads, and a custom Pedro Caldas piñata? We've got it all for you!
Pedro Caldas and Dave AV continue to deliver epic wakeboarding content as we gear up for the new season. Their latest project, "Las Tres," was captured in Mexico at Mayan Water Complex – a Hyperlite supported Wake Park. Join Pedro on his adventure around town and on the water, ripping behind the boat on his Wishbone, and throwing down at the park. Look closely for all of the piñata appearances, including a cameo by a custom Pedro piñata that spins laps in a doubles session.
Discover one  full interview of Pedro Caldas on  #unleashedwakemag
Pedros Caldas Las tres !
Discover one  full interview of Pedro Caldas on  #unleashedwakemag
PEDRO CALDAS Las tres
Quick interview of  Pedro Caldas :
How did you get started wakeboarding?
My first contact was in a trip to Orlando with my family, but I really started a few years later when my Dad made me the luckiest dude in the world and decided to open his own cable park, Naga.
Do you do any other board sports?
My roots come from surfing but nowadays I've been skating a bunch in the local skate park. Thiago Lemos is from the same city I live in.
What do you like the most about wakeboarding?
Riding on various countries, and meet new friends everywhere.
What do you dislike?
Nothing.
Name a trick you would like to do one day?
My dream is to create one of my own, have a some in mind, but need to put it in action.
Which do you prefer, rails or kickers?
Rails all the way….
If you could have a session with anyone, who would it be?
Everybody has something to bring to the table, but Guenther's riding never ceases to amaze me. He is a creative and well rounded rider.
Tell us a bit about Your Home Spots?
I daily ride Naga, it has a strong connection with nature since it is surrounded by trees and the water is pura that comes from the grown.
Near by there's an sick 2.0 called Mobe wake park, that has some cool features and good people in love with wakeboard.
And there's also a new cable park here in Brasil called Sunset wake park, it has a full size and a sick bi-level. They hosted a pro competition last year that was aired in live in the biggest channel in the country (Daniel won, I got second). All thanks to the owner Matheus that is one of the most famous country singer out here.
---
More about : HYPERLITE

If there was ever a season to appreciate our sports and the lifestyle they provide, 2020 was it. Hyperlite has always been a family brand at heart and now we are even more so, with a deep sense of gratitude for our time on the water with friends and family. As 2020 came to an end we saw a renewed enthusiasm in wakeboarding, wakesurfing and all towed water sports. Simply put, the lakes were packed and Hyperlite's 2021 collection is a reflection of how extremely excited and confident we are that you cherish the same feelings as we do, we love Wakeboarding & Wakesurfing.
While things have changed around the world, the tremendous quality of Hyperlite products has not, we continue to create, design and manufacture every board, binding, surfer, life vest & rope to highest standards and stand behind each 100%. Our tag line "Quality Goods Don't Fear Time" is a firm belief shared amongst the entire Hyperlite team. Together our engineers, athlete team & loyal supporters have inspired an amazing line up for 2021.
Hyperlite is excited to introduce 2 new cable wakeboards, endorsed by Graeme Burress and JB O'Neill, called the Blacklist and Freepress respectively. Both new shapes are constructed with wood cores, sintered bases and urethane sidewalls making them bomb proof for ripping around your favorite Wake Park. The Hyperlite binding collection is also growing with the addition of new Rusty Malinoski binding we call The Ultra. The Ultra is a traditional plated binding built atop our Fusion Plate System. The System Bindings and Boots remain the best connection to your wakeboard and our System Boots are refreshed designs for 2021.
And how about Wakesurfing? We truly love surfing behind the boat and the Hyperlite quiver for 2021 continues to evolve meeting different demands, styles and price points so all surf enthusiasts can find the perfect wakesurfer. Hyperlite is offering 2 new surfers from Varial Surf Technology christened the Raygun and Accelerator. The Raygun is a longboard style shape while the Accelerator is an aggressive slaysher for free styling and popping airs. Keep an eye out for the new Wingman and Droid surfers, featuring Hyperlite's new handmade epoxy construction. And if you are into the foil game our new UTE Surfer, short for Utility, matches with most foils on the mark and includes removable foot straps.
HYPERLITE HAS NEVER BEEN SO CONNECTED WITH OUR FELLOW WAKE ENTHUSIASTS. YOUR PARTICIPATION ON OUR SOCIAL CHANNELS, FEEDBACK ON OUR VIDEOS AND PRODUCTS AND THE SHARED PASSION FOR OUR LIFESTYLE KEEP US GOING. THANK YOU SO MUCH FOR YOUR CONTINUED SUPPORT AND LIKE YOU, WE LOVE EVERYTHING WAKE!
Find all wake spots in the world on