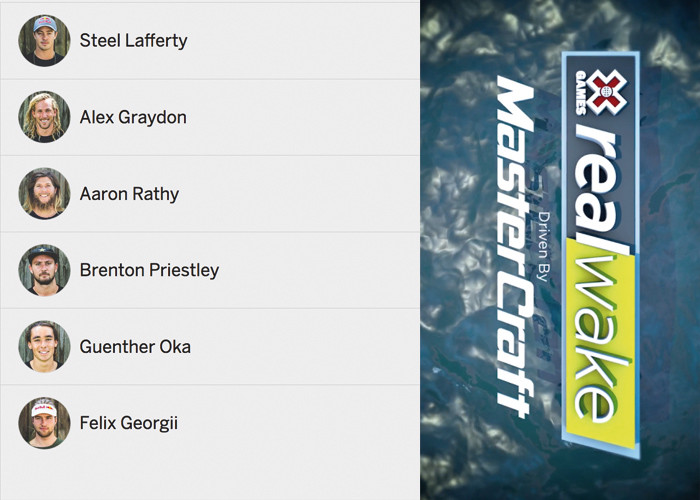 08 Sep

REAL WAKE 2017 | WAKE X GAMES
REAL WAKE 2017 by MASTERCRAFT , the Wake X-GAMES
Real Wake 2017
Real Wake, Driven by MasterCraft, is back for another year! Six of wakeboarding's top competitors have submitted 90-second videos for a shot of X Games gold and glory. Watch the videos below and vote for your favorite. One vote per day (24-hour period), per browser is allowed, so make sure to return often to show your support. Voting ends at 9 a.m. ET on Monday, September 18.
The full, behind-the-scenes stories on the making of these videos will be broadcast in an hourlong "World of X Games: Real Wake 2017" special on ABC, airing Sunday, September 17, at 4 p.m. ET/3 p.m. PT. Winners of the judge-awarded X Games gold, silver and bronze medals will be announced during the broadcast. The Fan Favorite winner will be announced on Monday, September 18, at 12 p.m. ET.
Find out more about the riders, filmers and judges in this year's contest in this photo gallery.
ALEX GRAYDON
STEEL LAFFERTY

Watch Steel Lafferty's entry into Real Wake 2017, the all-video wakeboarding contest brought to you by X Games. Vote for your favorite video at https://XGames.com/RealWake,
AARON RATHY

Watch Aaron Rathy's entry into Real Wake 2017, the all-video wakeboarding contest brought to you by X Games. Vote for your favorite video at https://XGames.com/RealWake
BRENTON PRIESTLY

Watch Brenton Priestly's entry into Real Wake 2017, the all-video wakeboarding contest brought to you by X Games. Vote for your favorite video at https://XGames.com/RealWake,
FELIX GIORGII

Watch Felix Giorgii's entry into Real Wake 2017, the all-video wakeboarding contest brought to you by X Games. Vote for your favorite video at https://XGames.com/RealWake
GUENTHER OKA

Watch Guenther Oka's entry into Real Wake 2017, the all-video wakeboarding contest brought to you by X Games. Vote for your favorite video at https://XGames.com/RealWake
More about The REAL WAKE 2017 :
Results of the REAL WAKE 2016