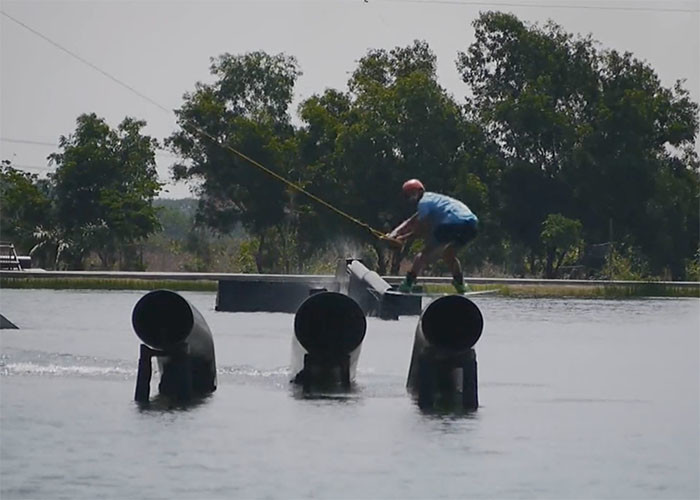 18 Apr

"Singha" a roadtrip with Loris Hermann

After a roadtrip with his girl to wakeparks in Germany, Italy and France with their camper, Loris Hermann decided to fly to Thailand for new adventures. Follow them in this edit !

Parks : Treviso, Ravenna, Tencin, La Rena, Turncable, Wakebase, TWP Lumlukka

"Enjoy the footy we caught in the best season i had so far!"

Music : Madchild ft Demrick Mental
Filmed by Julia Hartinger


Singha from Loris Hermann on Vimeo.
"Singha" a roadtrip with Loris Hermann
---
ThaiWakePark 
"Our aim at THAI WAKE PARK was to design a Cable Wakepark that would give riders of all levels the opportunity to try the great sport of cable wakeboarding and wakeskating. We here at THAI WAKE PARK remember how daunting the first few experiences are on the cable so we've constructed the cable to progress riders from their first few steps, to where ever their abilities and imagination will take them!"
---
Starwake Park
Located in Revenna, Italy, Starwake is one of the first water-sports complexes in the world, choose by some of the best riders for training before competitions (IWWF have chose Starwake for the 2015 E&A Cable Wakeboard & Wakeskate Championships) like Timo Capl, Sam De Hann, Christopher Klein, Andre Botta.
There are a full size and system 2, specializing in wake camps.
Near the park you can find some food, bar and clubs, hotels or campings.
"For us, wakeboarding is about fun. When you're having fun and you're around people you enjoy, you will get the most out of your time on the water!"
More about the park on the WEBSITE