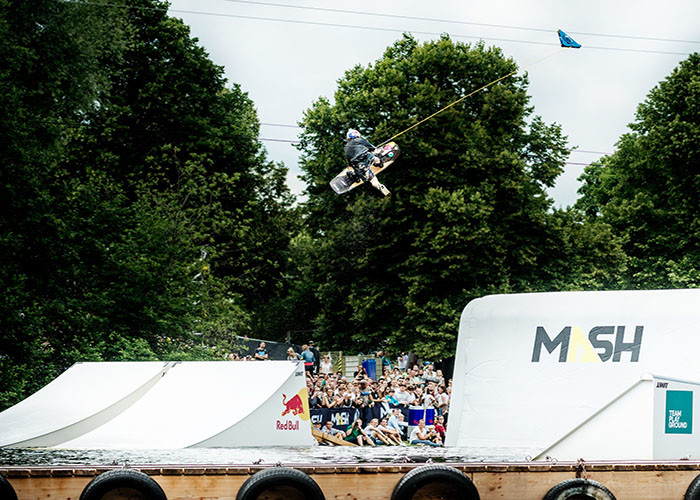 29 Jun

SESITEC x MUNICH MASH 2017

SESITEC x MUNICH MASH

Last weekend Munich welcomed the world's top action sports athletes and thousands of their fans to the well renowned Olympic Park. Headlining with 

Wakeboard Rail & Air, 

the 

Nike SB Street League World Tour, and the 

BMX Spine Ramp contests,

 each segment served as a unique representation of their respective sport.

 

Sesitec as an official supplier supported the wakeboard event with two System 2.0 HDs and enabled spectacular riding. This year the focus was not only on the Big Air, but also the rail riding.

Munich Mash 2017 (Sesitec Highlights Video) from SESITEC on Vimeo.

The finals took place on Sunday and the event feeling was absolutely amazing. Despite the morning showers which delayed the start of the finals, the sun came out in the afternoon and the atmosphere went through the roof. All around the lake, spectators cluttered the shoreline – cheering on as they watched the athletes doing what they love most. 

Dominik Hernler (AT), Guenther Oka (USA), Aaron Gunn (AUS) and Blake Bishop (USA) took the lead in the head to head runs and competed at the SUPER FINALS showing a huge trick repertoire and creative riding.

Congratulations to Guenther Oka who completely impressed the judges and the crowd, taking home the first place spot on the podium. Following close behind, Aaron Gunn took home a second place win and Dominik Hernler came in third. Cheers to our man Felix Georgii (GER) who went home winning "Best-Trick" with his one-footed cab 540 indy.

Munich Mash 2017 is most definitely one for the books.
SESITEC x MUNICH MASH 2017