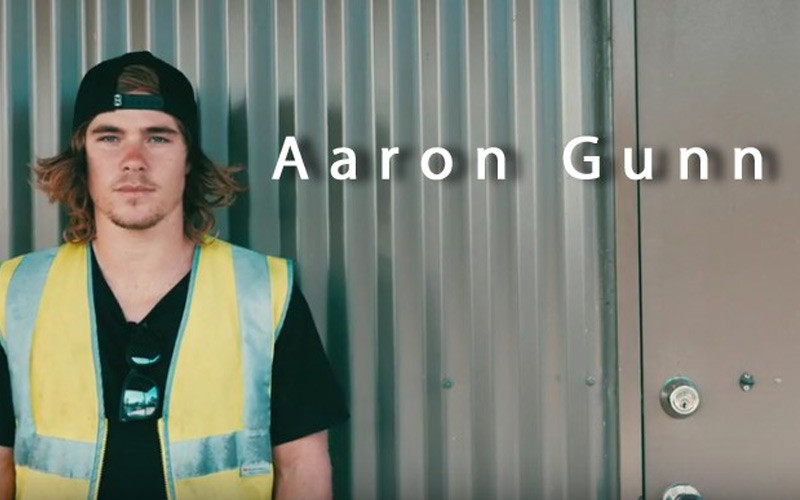 09 Mar

Slingshot Aaron Gunn: Welcome To the Team!

The Welcome to the team video of Aaron Gunn 2X Wake park world champion in 2015, and the Wake park Rider of the Year , into the SLINGSHOT TEAM . Aaron reach 20 years this year , he is normally living in Australia but he travel a lot all around the world because of wakeboarding be a pro is not an easy life …
Well said ! : "there's no place quite like my home park , Cables Wake Park Penrith" !


Edit: Slingshot

More About Aaron Gunn
Age: 20
Birthdate: October 23rd 1995
Stance: Goofy
Years Wakeboarding: 4 years
Home Park: Cables Wakepark, Penrith

At just 20 years old, you've achieved more than most do in a career worth of wakeboarding. How did you progress so quickly and what motivates you to keep going bigger and riding harder?
I've achieved more than I ever imagined so far in my career! Ever since I was a little kid, I always dreamed of being a professional wakeboarder. All I thought about was wakeboarding. I guess the thing that motivates me the most is that I always want to be better than I was the day before. It's a challenge I have with myself to always be moving forward in life with every day that goes by, so progressing my wakeboarding helps me achieve that goal.

When most other 20 year old kids are out partying late and sleeping half the day away, you seem to have a very structured daily routine. Give us a run through of an average day in your life.
Yeah I'm not really into the party scene. It's way to expensive to party in Australia … ha, ha, ha. An average day in the life for me would be: wake up around 7:30 a.m., hang out with my girl for a bit before she goes to work. Then around 9:30 I take my dog to the park and play around with him for while. Then around 10:30 I head down to the park and shred for a couple of hours with the homies. Then at 1:30 I head to work and work from 2:30 till midnight, then I head home go to sleep and do it all again the next day.

We've met quite a few Australian wakeboarders who live by the motto "work hard, play hard." Is this something that is just bred into the Australian culture?
Yeah I guess it is just the way most Australians are brought up from day one. It's a good motto to live by because in the end, you can't take everything you worked for to your grave, so you may as well enjoy the perks!

What is your ultimate goal in wakeboarding beyond your 2 years of reigning Wake Park World Champion title?
My ultimate goal in wakeboarding is to get my own pro model, so that one day I can look back and be stoked on what I achieved & now you guys are bringing that to life! I am beyond stoked. Aside from that I really just want to progress my riding to a point where people look at videos & photos of me and aspire to ride like that one day. I just want to be a role model for all the young wakeboarders out there who are trying to make it big!

You rip behind a boat as well, how come you chose more of a cable path?
I rode boat for quite some time as a kid. I grew up on the river in Australia & rode boat pretty much every day. We didn't have any cables in Sydney until I was around 16 years old, but once cables wake park opened, I went and tried it & from that day on I was hooked. I guess I just enjoy the freedom of being able to just hook onto a carrier and ride round for as long as you want. It's freedom.

Wakeboarding seems to be in a state of identity crisis between boat and cable riding. What direction do you see the sport heading in the next 10 years?
I see the sport of wakeboarding pushing towards park riding for sure. It's way more accessible & affordable for your everyday person who wants to try wakeboarding & it's becoming a lot more like snowboarding. We can pretty much ride anywhere now as long as there is enough water to skim on and a winch handy. Park riding for sure.

What is it about Slingshot that inspired you to join forces?
The thing that I love most about Slingshot is the team. Slingshot has such an amazing family of riders & everyone seems to love working together! I love the fact that the team is so tight and they're always finding ways to improve. It doesn't get any better than having amazing team-mates to help push your riding to that next level!

Where do you get your inspiration for riding?
I have always looked up to Mitch Langfield and Chris O'Shea as riders. They are 2 of the most stylish riders I've ever seen on a wakeboard & more recently since I started park riding I've looked up to riders like Raph Derome and Aaron Rathy. They both destroy every aspect of wakeboarding & that's something I definitely hope to achieve in the future!

What setup are you rocking and what do you like about it most?
For 2016 I'm rocking the KTV bindings on the 144 terrain. This board is incredible: I think my favourite feature is the amount of control you have on rails – it's mind blowing! I've never ridden a board that allows you to flex so much without sacrificing your soft kicker landings, but the Terrain does exactly that!