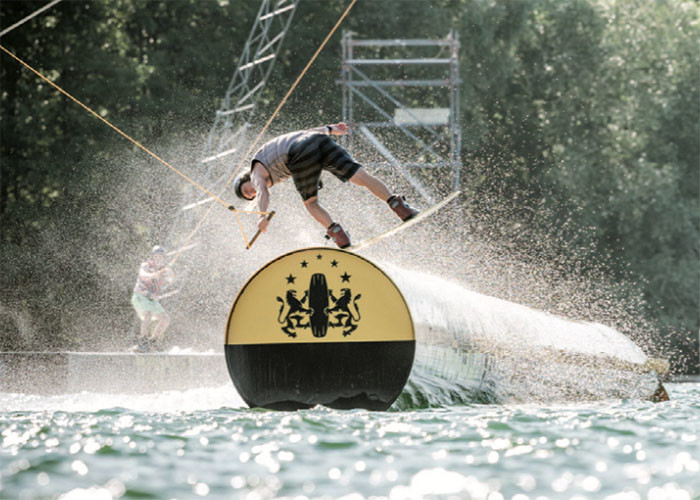 07 Oct

TURNCABLE TAKEOVER – 2016

Return on the Turncable Takeover 2016
---
Sesitec Teamriders taking over Turncable. What was this project all about? Simply about having a great time with the best team mates, wakeboarding from day to night, showing some creative riding and all of that captured in nice shots and videos. After the big action sports event, Munich Mash, a lot of Sesitec's Teamriders were already in Germany. Perfect time and place to gather around and have a nice team wakeboard session. And why not invite some great photographers and filmmakers and make a media event out of it? To join the other guys, wakeboard legend Tom Fooshee came all the way from America and took part in a week of wakeboarding and photo shooting.
The crew was unbeatable! What a strong constellation of riders: Nico von Lerchenfeld, Felix Georgii, Tom Fooshee, James Windsor, Brenton Priestley, Max Balser, Yanneck Konda, Steffen Vollert, Manu Rupp and Tobias Michel.
The System 2.0 HD was their playground for almost a whole week! Here, the guys had their private area, could talk about their ideas, enjoyed food together (from awesome burgers, pasta to excellent BBQ) and could also sleep in on-site bungalows. Two boys shared a bungalow where they could spread their wakeboards and stuff – for these few days it really felt like a small wakeboard community just focusing on a common goal.
To let everyone else share their experience at Turncable Takeover, the guys were constantly publishing great action shots on social media with the hashtag #turncabletakeover.
But the action was not only happening at the System 2.0 HD. Also shooting at the two Full Size Cables with a brand new Unit Parktech set-up was on the list and completed their perfect spot for having a great wakeboard shooting.
It was all about capturing high-quality shots! The set-up at the System 2.0 HD was rebuilt every day. The riders were doing it all together: first discussing what set-up could be fun and challenging to ride and then jumping in the water, rebuilding and anchoring it. From time to time it became an exhausting task to complete but together as a team the guys really killed it. The results were action packed, great photos and videos. But it was not only about wakeboarding all the time … the young guns Yanneck Konda and Tobi Michel were showing their superman skills while being pulled up the air by the System 2.0 HD. Also barefoot riding was up on the "agenda"– always a classic.
To catch some good light, the team had to get up early in the morning. Coffee and go! Seeing the first results, the team was convinced and made their best to get out of bed every day before sunrise. Top photographer Stefan Eigner and filmmaker Steffen Vollert were joined by Lukas Riegl and Jan Schädle. This constellation of creative minds combined with professional and fun riding was a guarantee for big hits. With the help of the whole team, the shots were realized. Back to the boat life: Tom or Brenton jumped onto the motorboat and drove the photographers and filmmakers as close to the features as possible.
After long days of shooting the team was always coming together at a campfire, enjoying some beers and BBQ and just having a good time. They know each other really well, but the times when they come together for a longer period of time, just doing what they love, are getting quite rare. So there were enough topics to talk about – from wakeboard history to hair care (yes!) and the performance of the German soccer team during the European Championships.
– CHECK OUT THE RECAP –
Turncable Takeover | Recap from TURNCABLE Wakepark on Vimeo.
All in all, the project could not have turned out any better. The team grew together even more and had an awesome time together, they pushed each other to great performances, showed their creativity and skills and the outcomes were amazing. Thanks to the whole Turncable crew as they didn't miss a beat. The team riders didn't have to worry about anything but having a good time. Great people – great project – Turncable Takeover was a blast… or how the boys would say – Turncable Takeover was gnarly!