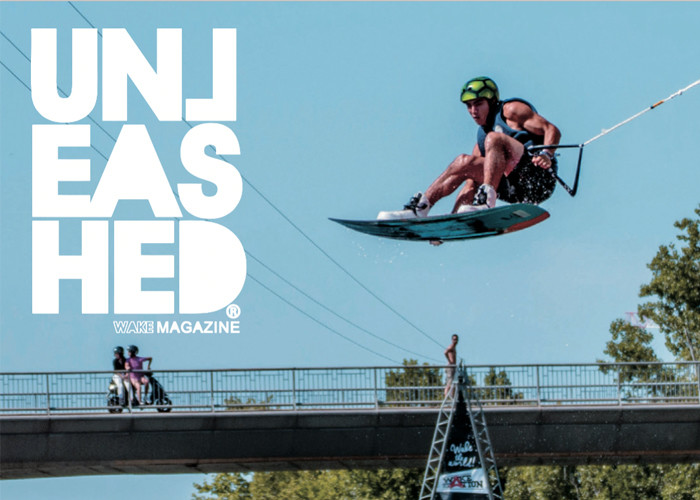 15 Jul

UNLEASHED FRANCE #1, en version Gratuite et Digitale …
Unleashed France #1  en version GRATUITE et en FRANÇAIS  !
UNLEASHED FRANCE #1 :
14 ans après sa création UNLEASHED WAKE-BOARD MAGAZINE est devenu le support media majeur du Wakeboard en France mais surtout dans le monde .
UNLEASHED WAKE-BOARD MAGAZINE est maintenant disponible en plusieurs langues au travers de son nouveau site web, ce qui lui permet de toucher le plus grand nombre de lecteurs répartis sur 187 pays .
Dés sa création, UNLEASHED WAKEBOARD MAGAZINE a fait partie intégrante de la scène wakeboard française, européenne puis mondiale, « made by the riders for the riders », couvrant le sport sous tous ses angles, au travers des wakeparks (téléski-nautiques), école de wakeboard, compétitions, sessions de treuils, et plus encore.
C'est cette approche unique au niveau des interviews , photo-shooting , vidéos, qui nous a permis d'obtenir la confiance de tous les acteurs professionnels des 3 disciplines du wakeboard.
Cette confiance et interaction des professionnels dans le magazine est primordiale et témoigne de notre réputation et de notre renommée dans le monde international du wake.
Le retour en France avec une édition en français et GRATUITE sur 2 supports ( Papier et digital )  , distribuée sur plus de 100 points de pratique ( cable-parks téléski-nautique ) et plus de 100 pro-shops sélectionnés  ( surfshop , pro-shop + 100 de plus a venir) , également  accessible "online",   s'est avéré inévitable suite a l'évolution et le développement rapide du sport sur l'hexagone qui a multiplié par 10 le développement des spots (cable-parks ) en 10 ans pour passer de 10 spots a plus de 100 maintenant ( Voir Carte).
 LIRE LE MAGAZINE EN DIGITAL c'est par la !
Plus d'infos : UNLEASHED FRANCE
Pour recevoir l'édition collector papier ->  UNLEASHED WAKE FRANCE