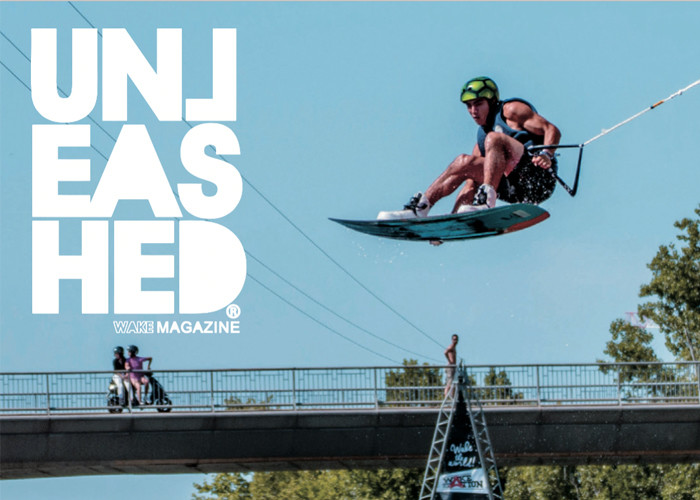 10 Jul

UNLEASHED FRANCE , Le retour en version Gratuite …
Unleashed France , le Retour  en version GRATUITE et en FRANÇAIS  !
UNLEASHED FRANCE :
14 ans après sa création UNLEASHED WAKE-BOARD MAGAZINE est devenu le support media majeur du Wakeboard en France mais surtout dans le monde .
UNLEASHED WAKE-BOARD MAGAZINE est maintenant disponible en plusieurs langues au travers de son nouveau site web, ce qui lui permet de toucher le plus grand nombre de lecteurs répartis sur 187 pays .
Dés sa création, UNLEASHED WAKEBOARD MAGAZINE a fait partie intégrante de la scène wakeboard française, européenne puis mondiale, « made by the riders for the riders », couvrant le sport sous tous ses angles, au travers des wakeparks (téléski-nautiques), école de wakeboard, compétitions, sessions de treuils, et plus encore.
C'est cette approche unique au niveau des interviews , photo-shooting , vidéos, qui nous a permis d'obtenir la confiance de tous les acteurs professionnels des 3 disciplines du wakeboard.
Cette confiance et interaction des professionnels dans le magazine est primordiale et témoigne de notre réputation et de notre renommée dans le monde international du wake.
UNLEASHED WAKEBOARD MAGAZINE est partenaire mondial des plus grandes épreuves de wakeboard, wakeskate et wakesurf, les championnats du monde et d'Europe de câbles WWF (ligue amateur), les championnats du monde WWA (ligue professionnelle), et tous les événements d'envergure internationale comme le Plastic playground, le Bomber Wakeboard European Tour, le Wake the Line, le Speed Pilot , le UK Grass roots tour, le 2 Two Tower Tour en France, et le wakeboard tour espagnol …
Disponible dans 25 pays, avec plus de 380 points de distribution pour l'édition internationale imprimée, et 187 pays pour la version numérique internationale, Unleashed Medias représenté par la société UNLEASH communication, atteint maintenant plus de 3 000 000 de lecteurs dans le monde chaque année.
Le retour en France avec une édition en français et GRATUITE dédiée et distribuée sur plus de 100 points de pratique ( cable-parks téléski-nautique ) et plus de 100 pro-shops sélectionnés  ( surfshop , pro-shop et 100 de plus a venir) , s'est avéré inévitable suite a l'évolution et le développement rapide du sport sur l'hexagone qui a multiplié par 10 le développement des spots (cable-parks ) en 10 ans.
LISTE DES POINTS DE DISTRIBUTION SHOPS
| | | | | | |
| --- | --- | --- | --- | --- | --- |
| Yemanja Surf Shop | France | | route de Stiletto | | Ajaccio |
| Lockwood Skateshop | France | 55 | Rue Croix Verte | | Albi |
| Mulifun | France | 34 | r. Montesquieu | | Angers |
| Billabong | France | 68 | av. de Bayonne | Lot 5 Le Busquet | Anglet |
| ABS | France | 52 | r. Sommellier | | Annecy |
| Billabong | France | 25 | Rue Président Favre | | Annecy |
| Surfit | France | 5 | r. Verdun | | Annecy |
| Beach Rider | France | 30 | Rue Aubernon | | Antibes |
| New Rider | France | 2793 | chemin St Claude | | Antibes |
| Ouest Marine | France | 23 | ZA du Redo | Port du Crouesty | Arzon |
| Racing Product | France | 334 | Avenue des Paluds, | | Aubagne |
| Glissshop | France | 5 | Av. du Rousillion | | Aubière |
| Alternative Shop | France | 10 | Palace du Square | | Aurillac |
| Kite Spirit | France | | Z.I. du Moustoi | | Aurray |
| Billabong | France | 2, 4, 6 | place Bellevue | | Biarritz |
| Rip Curl | France | 2 | r. de la reine Victoria | | Biarritz |
| Charley Nautic | France | 238 | Chemin Maguide | | Biscarosse |
| Loisir 3000 | France | 237 | Rue Eugène Berest, | | Brest |
| Magic Surf | France | 31 | Rue Yves Collet | | Brest |
| Gliss Up | France | 101 | r. François de Sourdis | | Bordeaux |
| Rip Curl | France | 241 | Av. de la Marne | | Bordeaux |
| Sport Aventure | France | 6 et 14 | r. de Cursol | | Bordeaux |
| Planet Street | France | 2 | r. Louis de Funès | | Bordeaux |
| Global Com | France | face au 34 | Quai alphonse Gallo | Centre Nautique | Boulogne-Billancourt |
| Le Ménhir | France | | 14 | Résidence Cabourg 2000 | Cabourg |
| Nausicaa | France | 100 | Rue Délivrande | | Caen |
| UCPA Domaine de Bombannes | France | | Externat | Domaine de Bombannes | Carcans |
| Quai 34 | France | 7 | place Porte Reine | | Chambéry |
| Rip Curl | France | 275 | Rue DOCT Paccard | | Chamonix |
| Ability | France | 16 | Rue des Fossés | | Cherbourg |
| Surfing Area | France | 4 | Rue Jean Jaurès | | Dunkerque |
| Nautic Services | France | 18 | Rue Jean Jaurès | | Eguzon-Chantom |
| Australian Open | France | 29 | Rue E. Ferray | | Evreux |
| Freeride Attitude | France | 763 | Bd. d'Alger | Résidence l'Acapulco | Fréjus |
| Adrénaline | France | 26 | Place Paul Vallier | | Grenoble |
| La Glisse | France | 28 | Boulevard Gambetta | | Grenoble |
| Quai 34 | France | 114 | cours Berriat | | Grenoble |
| Action Line | France | | Galerie Marchande | de guidel plage | Guidel Plage |
| Attitude Sk8 | France | 39 | avenue des sabotiers | | Hossegor |
| Beach Bum | France | 164 | rue Paul Lohary | | Hossegor |
| Rip Curl | France | 410 | Av. du TCF | | Hossegor |
| Quai 34 | France | | Rte de L' Almanarre | | Hyères |
| Top Fun | France | | Rue Nicéphore | ZA Palyvestre Niepce | Hyères |
| Welcome | France | 109 | Allée du Poucet | Presque-Ile de Giens | Hyères |
| Blue Emotion | France | 9 | Rue Vaudetard | | Issy-les-Moulineaux |
| Hawaii Surf | France | 69 | Av. D.Casanova | | Ivry-sur-Seine |
| Glisse Evolution | France | | Port de Plaisance | | La Baule |
| Surf City | France | 6 | Bd de la Plage | Résidence le Casino | Lacanau |
| Is It Luck | France | 124 | Rue Saint Denis | | Lagny s/ Marne |
| Palmyre Wind | France | 2 | Avenue de Royan, | | La Palmyre les Mathes |
| SURF AVENUE | France | 12 | rue de la Bonette | ZA des Minimes | La Rochelle |
| Le Palmier | France | 14 | Rue Perthuis Breton | | La Tranche s/ Mer |
| Sport Maximum | France | 122 | Blvard Clémenceau | | Le Havre |
| We ride | France | 295 | avenue du general de Gaulle | | Leucate |
| Surf One | France | | Avenue de Septimanie | Face au lidl | Leucate |
| Les Pieds Dans L'Eau | France | | Av. Marcel Dassault | Zone Induspal | Lons |
| ABS | France | 18 | r. Sainte Héléne | | Lyon |
| Custom sport 601 | France | 601 | Avenue Fréjus Paul Ricard | Centre Commercial Olympia | Mandelieu |
| GlissAttitude | France | 17 | Montée du Commandant Robien | | Marseille |
| Magic Surf | France | 74 | Avenue Aygalades | | Marseille |
| Le Boucanier Surf Shop | France | 2 | Avenue José Nobre | | Martigues |
| Street Surfing | France | 23 | Avenue Albert Rouvière | | Mazamet |
| BackSide | France | 3 | Av Thiers | | Menton |
| Next | France | 56 | rue Pater | | Montauban |
| No Fear Brooklyn | France | 55 | Rue de l'Aiguillerie | | Montpellier |
| FAT MONKEYS | France | | Autoroute de Carnon | ZAC du Fenouillet | Montpellier |
| Quai 34 | France | 34 | Quai d'Oran | | Mulhouse |
| Impact | France | 18 | Rue des Boulangers | | Mulhouse |
| Quai 34 | France | ZI Croix Sud | Route de Perpignan | | Narbonne |
| Quai 34 | France | 6 | r. Prince Maurice | | Nice |
| Skateshop Topboard | France | 27 | Av jean medecin | | Nice |
| Neway | France | 59 | Av. Jean Prouvé | Ville Active | Nîmes |
| Rockslide | France | 9 | Rue basse | | Niort |
| Ile du vent | France | 9 | rue Richet | | Noirmoutier |
| Vague et Vent | France | | Av Frédéric Fabrèges | | Palavas les Flots |
| Quai 34 | France | 26 | Rue de Verdun | | Paris |
| Rip Curl | France | 74 | Bd. Montparnasse | | Paris |
| Jump Skateboard | France | 41 | Rue du Maréchal Joffre | | Pau |
| NEWAY | France | 35 | AV DOCTEUR JEAN LOUIS TORREILLES | | Perpignan |
| ATS Surf Shop | France | 6 | Avenue de l'océan | | Plouharnel |
| Twenty Nine | France | | Pointe de la Torche | | Plomeur |
| Glisse evolution | France | | Port de Plaisance | | Pornichet |
| Kitexperience | France | | Pont Napoleon | Hôtel Portuaire | Port St Louis du Rhône |
| Loisir 3000 | France | 237 | Rue Eugène Berest | | Quimper |
| Opal Jet | France | 140 | Av. Jean Moulin | | Rang du Fliers |
| Quai 34 | France | | 17 Pas des carmelites | Montgerval | Rennes |
| Quai 34 | France | 8 | r. St Denis | | Rouens |
| Neway | France | 1 | Allée du Lougre | | Royan |
| Jet Center | France | 2 | Av pierre semard | ZA La piche | Seysses |
| Snow Problemo | France | 22 | rue Vincent Mir | | St Lary |
| No Limit | France | 388 | Av. de Verdum | Zone Cap 3000 | St Laurent du Var |
| Action Fun | France | 68 | RUE DE LA CHAUSSEE | | St Malo |
| Quai 34 | France | 42 | Boulevard du Président-Wilson | | Strasbourg |
| Slide Box | France | 5 | Rue Gustave Doré | | Strasbourg |
| Billabong | France | 44 | r. Remusat | | Toulouse |
| ALL BROS | France | 164 | ROUTE DE REVEL | | Toulouse |
| SLIDE ZONE | France | | Place Jacques Dominique Cassini | | Valence |
| Kaluz SARL Karbogliz | France | 1 | route de la tournette | | Veyrier s/ Lac |
LISTE DES POINTS DE DISTRIBUTION SPOTS
| | | | |
| --- | --- | --- | --- |
| SPOTS | ADRESSE | CP | VILLE |
| ACP | Etang du milieu | 80470 | Dreuil les amiens |
| ADDICT WAKE PARK | 793 Route du Grand Verger | 38430 | Moirans |
| ADVANCE RIDE | Lac de Ty Colo | 29290 | Saint Renan |
| AFA | 3 rue des Tisserands | 68360 | SOULTZ HAUT RHIN |
| ANJOU WAKE PARK | ZA La Jalletière | 49380 | Notre Dame d'Allençon Angers |
| ATLANTIC WAKE PARK | 3 allée du Banc Cantin | 85460 | L'Aiguillon sur Mer |
| Authentic wakepark | Base de loisirs les 3 lacs | 05190 | Rochebrune |
| BASE NAUTIQUE DE JABLINES | Base nautique de JABLINES-ANNET | 77450 | Jablines Annet |
| BASE NAUTIQUE DE MERCUS | 518 Plaine de Mercus | 09400 | Mercus Garrabet |
| BELGIUM CABLE PARK | Lac des Herbières | 07333 | Tertre (Saint Ghislain) |
| BRUMATH TELESKI | Rue du Plan d'eau | 67170 | Brumath |
| BZH Wake Park | Manoir du Lou | 22270 | Jugon les lacs |
| CABLE SKI NAUTIQUE LOISINORD | Rue Léon Blum | 62290 | Noeux-les-Mines |
| CABLEPARK AVENSAN | Lac de Casalié | 33480 | Avensan |
| CACHIN WAKE PARK | Base de loisirs les Iles du Chéran | 73340 | Lescheraines |
| CASTOR WAKE PARK | Lac du Moulin Blanc | 33920 | Saint Christoly de Blaye |
| COLOSSE WAKE PARK | 205/215 parc nautique du Colosse | 97440 | SAINT ANDRÉ REUNION |
| DELTA WAKEPARK | Le Gap | 26340 | VERCHENY |
| ELSIUM | | | |
| EOLE AVENTURE | Le Pré Baron | 14940 | Touffréville |
| EXO 01 | Lac de la Rena | 01240 | Lent |
| EXO 13 (TNX PARK) | Lac de Peyrolles | 13860 | Peyrolles en Provence |
| EXO 33 | Lac de Baurech | 33880 | Baurech |
| EXO 38 | Lac des Martelles | 38570 | Tencin |
| EXO 64 (TN de Sames) | R'wake, Lac de Sames | 64520 | Sames |
| EXO 77 | Base de loisirs | 77130 | La Grande Paroisse |
| EXO 83 | Lac du Rabinon, D 25 | 83490 | Le Muy |
| EXO 84 | Lac des Grèzes Hautes | 84840 | Lamotte du Rhône |
| GLISSE & KITE | Base de loisirs | 11560 | Saint Pierre La Mer |
| Goodlife Cablepark | Recreatiedomein De Mosten | 02321 | Meer (Hoogstraten) |
| I wakepark Hourtin | L'île aux enfants | 33990 | Hourtin |
| I wakepark Izon | 96 rue du Port | 33450 | Izon |
| I WAKEPARK LACANAU | Centre Azuréva | 33680 | Lacanau Ville |
| J AND J WAKE PARK | Plan d'eau de Siguret | 04400 | Jausiers |
| KITHAU WAKEPARK | Ecoloisirs Parc de Tabarka | 34340 | Marseillan |
| KOBA WAKE PARK | Plan d'eau municipal | 67820 | Wittisheim |
| KS WAKEPARK | Rue de la rabalette | 85800 | Saint Gilles Croix de Vie |
| KUM WAKE PARK | Parc des dosses | 66420 | Le Barcarès |
| LA SOURCE WAKE PARK | Route de Peyssies | 31390 | Carbonne |
| LAKECITY | BASE DE LOISIRS | 33380 | Mios |
| LAKESIDE PARADISE | Duinenwater 41 | 08300 | Knokke-Heist |
| MASSIF WAKE PARK | Rue des laveuses | 63800 | Cournon d'Auvergne |
| MY LITTLE WAKE PARK | Avenue du docteur Max Pierrou | 77310 | Boissise-le-roi |
| NATURAL WAKE PARK | Route de la Tour de Villemouze | 03500 | Paray sous Briailles |
| NWB – NAT WAKE BOARD'O | Chemin du Port de l'Esquillot | 33140 | Cadaujac |
| Ô KIRI WAKEPARK | Avenue du Lac | 64800 | Baudreix |
| OFF AXIS WAKE | Lac des bonnets | 31600 | Muret |
| PARIS WAKEPARK | 72 Avenue de la Folie | 94600 | Choisy-le-Roi |
| Projekt Wakepark Saverdun | Lac La Ginestière | 09700 | Saverdun |
| ROUFFIAC CABLE PARK | Base de loisirs de Rouffiac | 24270 | Lanouaille |
| SANCY WAKEPARK | Fontenille | 63320 | Creste |
| SENSAS PARK | 2 rue du Golf | 36160 | Pouligny Notre Dame |
| SOUTH WAKE PARK | Les Escaravatiers | 83480 | Pujet sur Argens |
| Teleski Nautique de Barcarès | Parc des dosses | 66420 | Port Barcarès |
| TELESKI NAUTIQUE DE BRAM | LAC DE BUZERENS | 11150 | Bram |
| Teleski Nautique de Condrieu | Base de loisirs de Condrieu les roches | 69420 | Condrieu |
| Teleski Nautique Lery Poses | Lac des deux amants | 27740 | Poses |
| Teleski Nautique Verberie | Route de Rivercourt | 60410 | Verberie |
| TEMERAIR WAKE PARK | Lac de la Lande | 17600 | Saujon |
| The Spin Cablepark | Lac de féronval | 06440 | Boussu-Lez-Walcourt |
| TIKI WAKE PARK | Bournazel | 19700 | Seilhac |
| TN 28 | 5 rue de la ferrière Fontaine-Simon | 28240 | Fontaine-Simon |
| TN DE CARCASSONNE | Complexe de loisirs Raymond Chesa | 11000 | Carcassonne |
| TN DE CERGY | 29 rue des Etangs | 95000 | Cergy-Pontoise |
| TN DE LA RINCERIE | La Rincerie | 53800 | La Selle-Craonnaise |
| TN DE MALAGUE | Lac de Malagué | 49140 | Chaumont-d'Anjou |
| TN DE SAUJON | Voie des tourterelles | 17600 | Saujon |
| TN LAC DE CANIEL | Rue du dessous des Bois | 76450 | Vittefleur |
| TN LE LAC | Chemin du Sablons | 71680 | Crèches-sur-Saône |
| TN LES ALICOURTS | Les Alicourts | 41300 | Pierrefitte-sur-Sauldre |
| TNA | 110 Chemin du Brachouet | 74800 | Arenthon |
| TNB 16 | Route de l'Etang Vallier | 16480 | Brossac |
| TN Poule Wake Park | 450 route des lacs | 73260 | Feissons-sur-Isere |
| TNCO | Base de loisirs de Saule Guillaume | 21700 | Premeaux-Prissey |
| TND 47 | Lac du Moulineau | 47160 | Damazan |
| TNG | Lac de l'isle Jourdain | 32000 | L'isle Jourdain |
| TNM | Lac du Gué du Magne | 86330 | Moncontour |
| TNS 73 | Route du Verney | 73220 | Aiton |
| TNS Wakepark | Allées des Foulques | 31200 | Toulouse |
| TSJ Wakepark | Base de loisirs | 66490 | Saint Jean Pla de Corts |
| TSN44 | Les chalets du lac | 44320 | Saint Viaud |
| UNIVERS GLISSE | Plage de Val | 15270 | Lanobre |
| UPSATE WAKE | Base de loisirs | 73250 | Saint Pierre d'Albigny |
| Wake Lagoona | Chemin de Moredis | 33720 | Virelade |
| WAKE PARADISE | | | |
| WAKE PARK CABLE | Allée du Ponant | 34280 | La Grande Motte |
| WAKE UP ALES | 22 bis Avenue du Général de Gaulle | 30100 | Alès |
| WAKE-BORDER TN | Quai du Rhône | 01420 | Seyssel |
| WAKEPARK DU LIEU DIEU | Domaine du Lieu Dieu | 80770 | Beauchamps |
| WAKESHOP | | | |
| WAKEVALLEY | Etang de la Vallée | 45530 | Combreux |
| WAKY MARRAKECH | Les jardins de l'Atlas | | Marrakech |
| WAM 73 | D 1090 | 73460 | Montailleur |
| WKD – TN DE CAP DECOUVERTE | Parc de loisirs | 81450 | Le Garric |
| WOOD WAKEPARK | Route du plan d'eau | 79220 | St Christophe sur Roc |
| WPR | Planet Exotica | 17200 | Royan |
Pour les spots ou shops non listés merci de nous contacter sur info@unleashedwakemag.com
Plus d'infos: UNLEASHED WAKE MAG FRANCE
ABONNEMENT UNLEASHED WAKE FRANCE