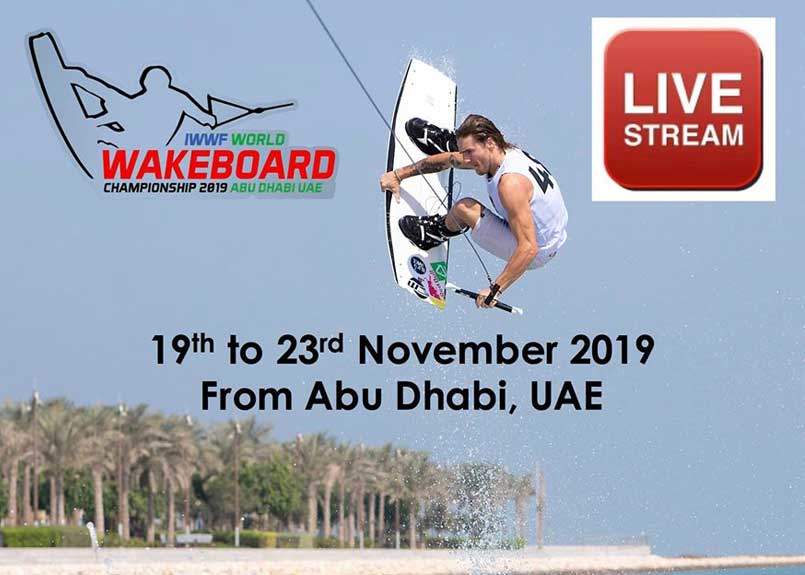 19 Nov

2019 IWWF World Wakeboard Championships | Abu Dhabi

The 2019 IWWF World Wakeboard Championships kicks off this week in Abu Dhabi, United Arab Emirates at the Eastern Mangroves Promenade, towed by a Centurion Ri237.
146 riders from 31 countries will compete for IWWF World titles in ten age-group categories for both men and women (14 & Under, 18 & Under, 30 & Over, 40 & Over and Open) and a team overall title from 19th to 23rd November 2019.
Riders competing in the Open Men's & Women's category will compete for a USD50,000.00 cash purse.
2019 IWWF WORLDS | Abu Dhabi

The event is organised by the Abu Dhabi International Marine Sports Club (ADIMSC), the Middle East's leading organiser of marine sports events at local, national, regional and international level, having hosted rounds of the UIM F1 H20 World Championship, the UIM Class 1 World Powerboat World Championship and the XCAT World Series.
Australia placed first in the team overall event at the 2017 IWWF World Wakeboard Championships followed by Italy (2nd) and Argentina (3rd).
Event Schedule
Tuesday, 19 November, 2019
8:00 AM Boys Qualifications
10:30 AM Veteran Men Qualifications
12:00 PM Masters Men Qualifications
2:00 PM Junior Men Qualifications
4:00 PM End of Day 1
4:30 PM Opening Ceremony at Event Venue
6:00 PM End of Opening Ceremony
Wednesday, 20 November, 2019
8:00 AM Junior Women Qualifications
9:00 AM Girls Qualifications
9:45 AM Veteran Women Qualifications
10:15 AM Masters Women Qualifications
11:00 AM Open Women Qualifications
2:30 PM Open Men Qualifications
5:00 PM End of Day 2
Thursday, 21 November, 2019
8:00 AM Boys Last Chance Qualifiers
9:15 AM Veteran Men Last Chance Qualifiers
9:45 AM Masters Men Last Chance Qualifiers
11:00 AM Junior Women Last Chance Qualifiers
11:45 AM Junior Men Last Chance Qualifiers
1:15 PM Open Women Last Chance Qualifiers
2:30 PM Open Men Last Chance Qualifiers
3:30 PM End of Day 3
Friday, 22 November, 2019
8:00 AM Veteran Men Semi-Finals
9:00 AM Master Men Semi-Finals
10:15 AM Open Women Semi-Finals
11:30 AM Boys Semi-Finals
12:45 PM Junior Men Semi-Finals
2:00 PM Open Men Quarter-Finals
4:00 PM Girls Final
4:30 PM Masters Women Final
5:00 PM End of Day 4
Saturday, 23 November, 2019
9:00 AM Veteran Women Final
9:30 AM Veteran Men Final
10:15 AM Masters Men Final
11:00 AM Boys Final
11:30 AM Open Men Semi-Finals
12:45 PM Medal Ceremony for Boys/Girls, Masters & Veterans
1:30 PM Junior Women Final
2:00 PM Junior Men Final
2:45 PM Open Women Final
3:30 PM Open Men Final
4:00 PM Medal Ceremony for Junior & Open
4:30 PM End of Event
7:00 PM Closing Ceremony / Final Awards Dinner at Al Khatim Desert
2020 IWWF CABLE WAKEBOARD WORLD CHAMPIONSHIPS HELD IN THAILAND
-2019 IWWF World Championships-
About The International Waterski & Wakeboard Federation (IWWF)
The International Waterski & Wakeboard Federation (IWWF) is the world governing body for towed water sports and has over 90 affiliated Federations worldwide. It was founded in 1946 in Geneva, Switzerland. It is recognized by the International Olympic Committee (IOC) as the sole authority for towed watersports. The IWWF is an affiliate member of the Association of IOC Recognized International Sports Federation (ARISF) and the Global Association of International Sports Federations (GAISF). The IWWF's sports disciplines include, amongst others, Waterskiing (slalom, tricks & jump), Wakeboard, Cable Wakeboard, Cable Waterskiing, Disabled Waterskiing, Kneeboarding, Show Skiing, Ski Racing, Barefoot Waterskiing and Wakesurfing