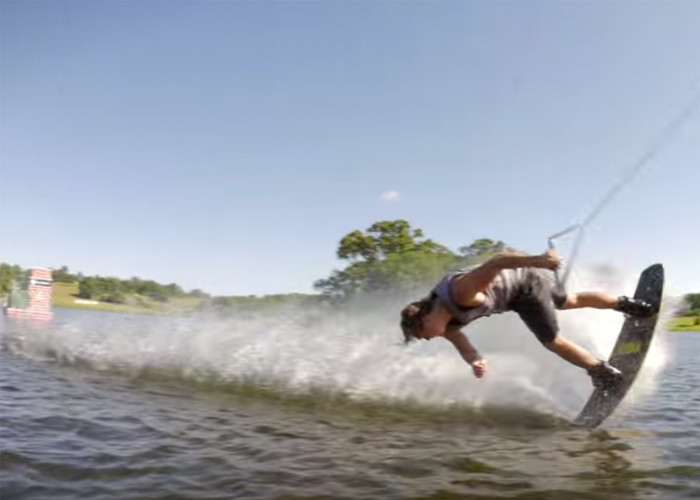 19 Jan

#BenSquad aka Team Slingshot – 2017

#BenSquad aka Team Slingshot – 2017

From The Team slingshot:

It's a new year and we're is stoked to be riding the best line-up of boards to date! At your request we have the all NEW Ballistic Base for the park, New Flex Tips for locking into presses, Carbon Bedrock Inserts, and all new mounting / closure systems on our boot line. We're stoked for what 2017 will bring and can't wait to see what Slingshot board riders will be able to accomplish across the globe…including YOU!

Featured in this new edit is team rider and close friend Ben Leclair who as some of you may already know took a heavy crash towards the end of the 2016 season and needs our support to conquer his injury and join us on the water again. Ben has always been one of the smoothest and most stylish riders to watch and laid it all on the line in the name of progressing his riding. If you'd like to help support Ben's recovery we encourage you to follow the link below, and of course, enjoy this new edit of the entire team during our 2017 photoshoot at the Shredtown Ranch.


https://road2recovery.com/cause-view/ben-leclair/

More About Slingshot: SLINGSHOTSPORTS.COM
Since 1981 brothers Jeff and Tony Logosz have dedicated themselves to the performance and design of quality water sports equipment. Years of hard work and innovation, spawned from Tony's ability to think in original ways, is what fuels them today. In 1999, after numerous innovations in windsurfing, wakeboarding, and other major water sports, both set forth to found Slingshot. Since then Slingshot has grown to be a global brand which caters to top wakeboarders around the world.

The passion within Slingshot is seen on the water by the world's top athletes riding and pushing the limits of our equipment every day. Our dedication to quality and performance has empowered our riders to literally change the kiteboarding and wakeboarding worlds. "Since childhood, it is has been in our DNA to invent and deliver equipment specific to the sports we love." Tony says, as he refers to these inventions as ART.

The Slingshot Family
Our customers; we believe our legacy is built on our commitment to excellence. Nothing is more important than building that with our customers. This is why owning any Slingshot product is like being a part of the family. We may not always be perfect, but we always make right by the customer. Call us anytime; WE want to talk to YOU.

Our athletes: Tony goes on to say, "while growing up we had great mentors who supported our riding, and our education in developing products and composites. Thank you, Demetrije Milovich, and others who have helped develop our business sense. As our own athletic abilities wane with age, our passion to bring each sport to life grows stronger". At Slingshot we believe in giving back. We love finding raw, unbelievably talented athletes and supporting their dreams. The results have been incredible, and we have witnessed levels of riding we thought not possible, all within the true essence of freeriding in mind.

On our wake team; innovation and style are being defined by Jeff House, Jeff McKee, Mikey Ennen, Nick Valliere, Oli Derome, Shredtown (Andrew Adams, Chris Abadie and Davis Griffin), and female rider Corrie Dyer. Expect Slingshot to continually look for the next personality to represent our passion to push our sport and freeriding to insane new levels.

Our employees; you have to want to work at Slingshot. As fun as it may seem, it's not just a job, and things are extremely intense because we move lightning fast around here. We could not succeed without the creativity, drive, and commitment of all who work within the Slingshot family.
Now 13 years strong, we believe we have just set the foundation for building, developing, and testing the finest wakeboards, wakeboots, and accessories available on the planet for many years to come!