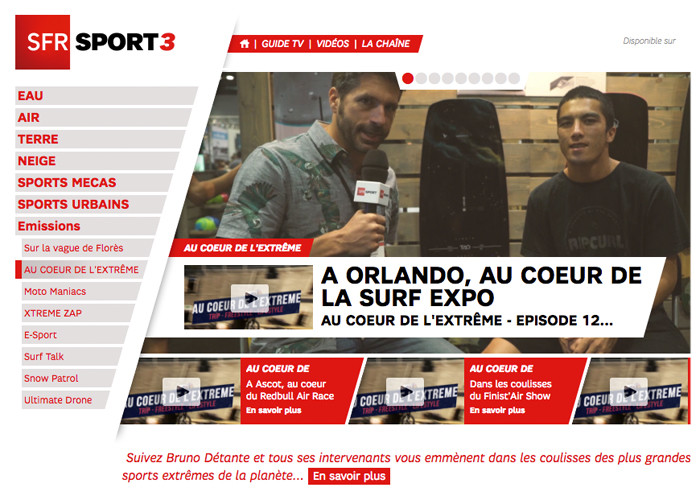 07 Dec

SFR SPORT 3 | French TV at SURFEXPO Orlando
SFR SPORT 3 French TV at SURFEXPO Orlando
Last September a french Tv Channel named SFR SPORT 3 come to SURFEXPO ORLANDO  made a report on the 3W INDUSTRY…
In this TV show named "au coeur de l'extreme" (In the Heart of Xtrem), Episode 12 .
Bruno DETANTE brings you into the biggest worldwide surf show held in Orlando 2 times in a year( September and January ).
During this show, he meet Daniel Grant one of the wakeboard Star in the world ,Tony FINN the wakeboard creator CEO of LIQUID FORCE , and Phil SIRECH the CEO of UNLEASHED WAKEBOARD MAGAZINE where the headquarter located in Orlando since 3 years now, who was the Red Link of this Show and his host…

Au coeur de l'extrême – Episode 12 à la Surf… by SFRSPORT3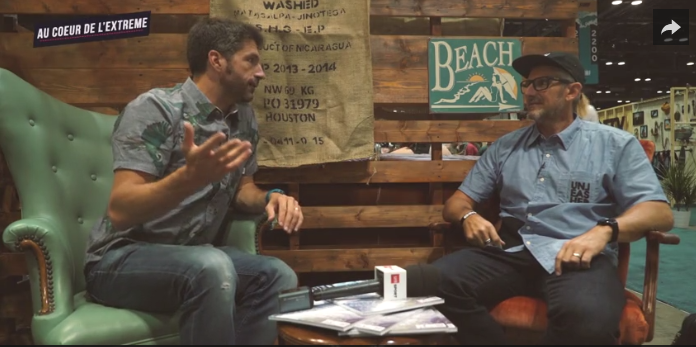 More About UNLEASHED WAKEBOARD MAGAZINE
14 years after its foundation UNLEASHED WAKE-BOARD MAGAZINE has come of age. 
After providing international coverage on wakeboarding, wakeskating, wakesurfing, and many major events, UNLEASHED has established itself as a globally renowned magazine. The fact that we make UNLEASHED available in multiple languages through our new website has proven to be a striking way to reach the largest possible number of people. 
From the beginning UNLEASHED has been a part of the "WAKE SCENE" covering the sport at wakeparks, boat camps, competitions, winch sessions, and more. With a unique approach to interviews, press reports, scoops, video and photo-shoots it has allowed us to gain the riders' trust and faith. The pro riders' passion for our photo sessions and videos available through the UNLEASHED website proves our reputation and following in the wakeboard world. 
Since 2004 the advertisers who have given us their trust have noticed a proven increase in sales and worldwide popularity! Being able to promote their image in an international way all over the globe is unparalleled in the world of advertising. UNLEASHED WAKEBOARD MAGAZINE is made by the riders for the riders in order to capture the underlying spirit of the wake way of life. Also, we are the main media partner of all the major wakeboard events of the world including the WWA world championships, the FISE World, Plastic Playground, Speed Pilots, Dutch Wakeboard Tour, UK Grass Roots Tour, French 2 Tower Tour, and the Spain Wakeboard Tour. Unleashed is the predominant media and support for this sport.
UNLEASHED WAKE MAG IN FIGURES 

Available in 25 countries, with more than 380 distribution points for the printed edition, and 187 countries for the digital version, Unleashed Medias reach now more than 3,000,000 world readers each year. Unleashed Wakeboard Magazine proves to be a powerful media with a strong following.
 With the addition of the specialty sections like Arts, Fashion, Design, Music, Entertainment, Alternative Sports, Health and so much more Unleashed Wakeboard Magazine reaches ALL types of people and brings more than information, but real content to the readers.
Unleashed is an open-minded magazine! We are aiming more than ever toward the multimedia area. The Trade Brand UNLEASHED talks to all wakeboarders across the globe and more, newsprint addicts and for digital followers (a high quality target with strong purchasing power).