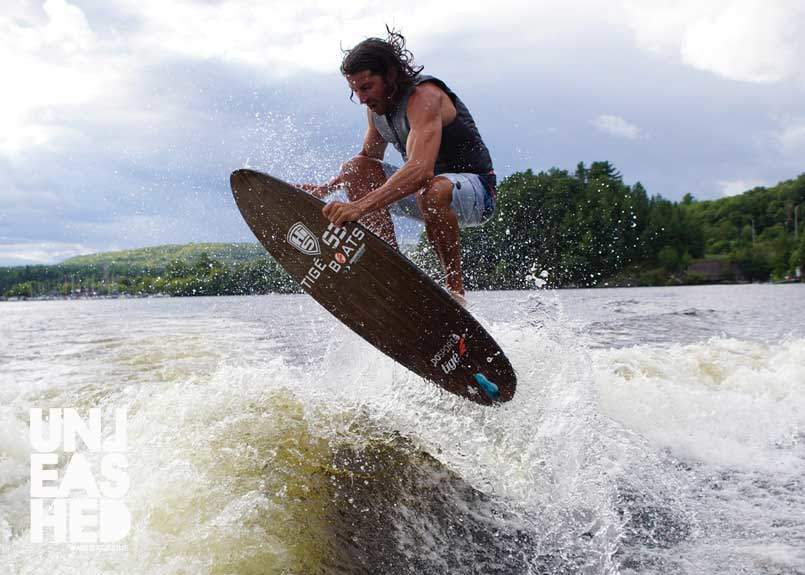 31 Jan

Wakesurf Legend Pro | Dominic Lagace

 Wakesurf Legend Pro Le nouveau pro modele de Dom Lagacé    

Do Sport a mis sur le marché les planches de wakesurf Legend Pro et Legend Pro Deluxe à la suite d'une collaboration avec l'équipe de Hi5 Wakesurf et Dominic Lagacé. Celles-ci sont fabriquées à la main à Trois-Rivières au Quebec.

« Ce partenariat a permis de mettre sur pied une stratégie de tests fiables afin de concevoir ensemble des planches de grande qualité avec du bois de noyer d'Amérique et accessibles aux amateurs de wakesurf, ici au Québec, mais aussi à travers la planète. Ces produits sont uniques, personnalisables et quasi indestructibles! »  ̶  Dominique Vallée, présidente de Do Sport.
Wakesurf Legend Pro By Dom Lagacé…
Ces modèles sont munis de rails ajustés pour une excellente traction et des courbes dans la planche (rockers) ont été calculées afin que vous puissiez effectuer des rotations rapides sans négliger la vitesse de glisse et des figures comme la légende de ce sport.
Autre article sur  :Dom Lagacé
La Mini Interview #Whatmatters de Dom ..
What makes Doum Lagace Cool ?
My travelling life and my smile.
What makes a Ride Cool ?
When you get flow and you can link trick after trick, big and clean.
What makes a Wakesurf Boat cool?
The wave the Tige boat Z3 creates, the sounds system and the people in it.
What makes a Wakesurf trick look cool?
If you go big above the lip and you grab it.
What makes a Wakesurf board cool?
Nice shape and awesome graphic design. Like my Liquid Force doum pro.
What makes Wakesurf Pads cool?
Colorful and grippy.
What makes a video edit cool?
All kind of angles, good music, slowmotion.
What makes a photo cool?
From a chase boat with a sunset or a sunrise
What's the most important thing in order to get sponsorship?
Be involved in the sport you love and represent it by sharing your passion.
What's the most important thing in order to progress?
Never let go.
What Makes a Rider Cool ?
The style.
–Wakesurf Legend pro    –