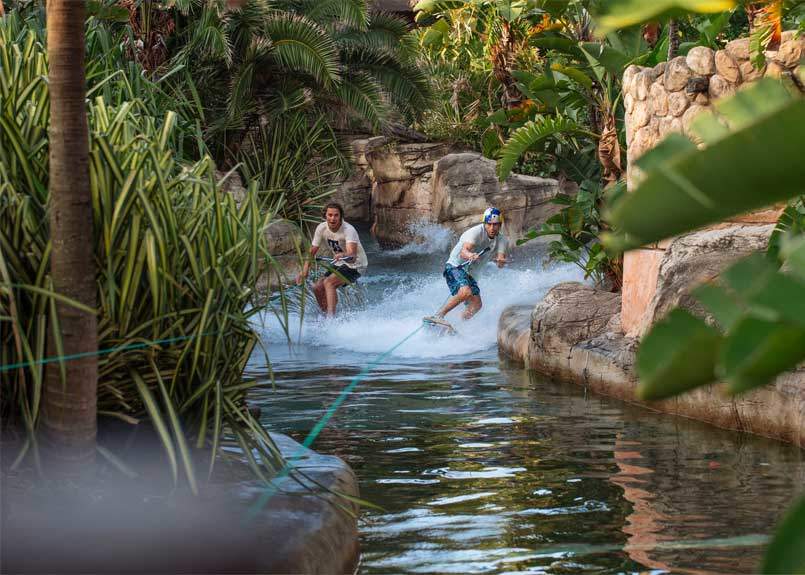 25 Mar

Brian Grubb & Matti Buys Wakeskate Durban's Beachfront
Red Bull's Brian Grubb & Matti Buys Wakeskate Durban's Beachfront
South Africa – 25 March 2019: Once described by CNN as the "coolest city in South Africa", it's no wonder that Durban is such a loved holiday destination. With its energetic beachfront, scenic water canals and uShaka Marine World, a more diverse and alluring backdrop for a wakeskating match-up you will struggle to find.
Wakeskating is a water sport that was adapted from wakeboarding, using a similar board but where the rider is not bound to the board. This offers the rider a level of freedom to accomplish an additional range of tricks that are similar to skateboarding.
Last summer, local wakeskate athlete, Matti Buys invited one of the most influential pioneers of the sport, Brian Grubb (USA) to South Africa to explore and session some of the most prominent spots around Durban. What transpired was an epic video short titled 'Reflections', which not only showcases Durban's flair but some of the most imaginative trick lines and obstacles.
"Since my last first trip to South Africa back in 2006, I have always wanted to come back and see more. Durban was a perfect location to wakeskate and put this project together with Matti," says Grubb, who has been dominating in the sport since his first pro tour in 2003.
In Red Bull's 'Reflections', you will see a myriad of cables and high-powered winches taking Grubb and Buys from the Indian Ocean shoreline, to Durban Point Waterfront Canals, right through uShaka Marine World and onto Durban's iconic beachfront pools. The duo creatively make use of their natural surroundings, adding obstacles like ramps or kickers to perform a host of tricks that one would normally expect to see on a lake or public cable park, yet this time in a much trickier and unique setting.

In South Africa, wakeskating is still very much a growing sport with a lot of potential and young talent continually raising through. "It is important for us as athletes who have spent a number of years building up the sport to continue to find creative ways to share our stories and to also put the sport of wakeskating in front of new, larger audiences," concludes Buys.
Credit Photo: Wayne Reiche / Red Bull Content Pool
Check out "Brian Grubb" on  #unleashedwakemag
More about REDBULL

Follow REDBULL Youtube Channel