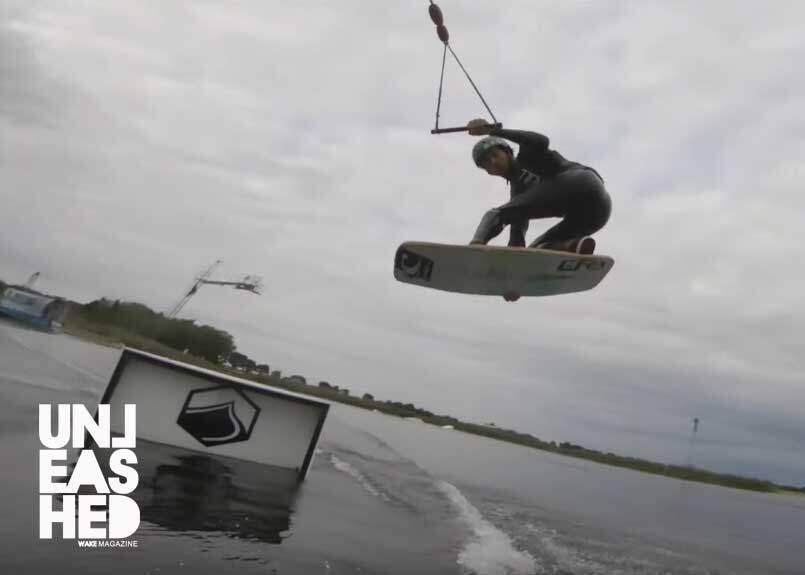 12 May

Wakeskate session with James and Matti in UK
Wakeskate session with James Harrington & Matti Buys
This Wakeskate session is just epic , last year james harrington invite the South african wakeskater MAtti Buys to get some shoots at Hannam wake park in UK
Enjoy those smooth riding with this 2 guys shredding this park
James
& Matti
filmed edited by James Harrington
Check out WAKESKATING VIDEO on Unleashed !
More about James Harrington  :
GOLD-medallist wakeskater James Harrington realised a childhood dream when he beat the world record for the highest number of stunts performed in a minute on the board last month.The 20-year-old from Haydon Wick, who only discovered wakeskating five years ago, swiftly made a name for himself on the watersport scene scooping the UK champion title in 2011 and 2013 and placing second at the European Championships in 2013.
But despite his impressive track record, James's proudest achievement was breaking the Guinness World Record in his field last month, completing 13 shuvs in 60 seconds, which will see him feature in the book's 2014 edition.
A shuv involves spinning the board 360 degrees before landing back on it.Flicking through the Guinness Book of Records as a child, Mini, as he is known in the wakeskating world, had day-dreamed of one day accomplishing a physical feat deserving of a mention in the iconic annals.
"I had the books when I was younger and it was my dream to get in," said James, who will compete in the 2014 national championship in Thorpe Park tomorrow.
"I love it. I try to go every day if I can and in the winter I try to get away. Last year I went away to Thailand.
"My goal is to move to America and wakeskate out there. There is a big scene over there."
James took up wakeboarding in South Cerney at the age of 14. Through trial and error and a heavy dose of natural talent, he was able to master the sport. Looking for a challenge, he was soon drawn to wakeskating.Unlike wakeboarding, the rider is not bound to the board in wakeskating. Instead, the top surface of the board is covered with griptape, in a similar way to a skateboard.He smashed the record on his fifth attempt, while filming Officially Amazing for CBBC at Festival Wakeboard Park in Basildon on June 18. The previous record stood at 12 shuvs in a minute. James performed 13 in 36 seconds before falling off the board but, despite this feat, he is not resting on his laurels.
More About Hannam Wake PArk  :
HANNAM'S WAKE 
The wake park is located in farm land 15min North of Cambridge. There are a System 2.0 cable and a 5 tower Rixen, a straight line cable and a great range of UNIT obstacles, situated in a unique location within farmland in the fens. It is run by brothers Ben & Terry Hannam along with Ben's wife Jess Hannam. Their facilities, which include toilets, changing rooms, cafe and car park.