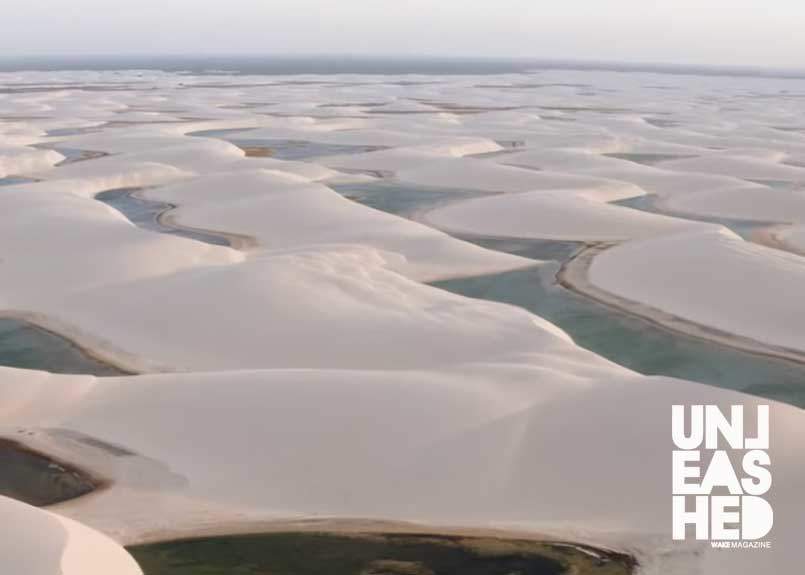 08 Apr

Wakeskating Brazil's | Zuzana Vrablova & Brian Grubb
Wakeskating Brazil's Desert Lagoons with  Zuzana Vrablova and Brian Grubb Redbull Pro's
Wakeskating Brazil's Sea Of  Sand

Wakeskate's best spots don't come easy and riding the opal lakes of Lençóis Maranhenses National Park, in Brazil, is about as hard as they come. Red Bull wakeskaters Zuzana Vrablova and Brian Grubb get off the beaten track in Brazil's sand sea to find the world's most stunning wakeskate location.
Stretching out along the northeast coast of Brazil is a vast, sweltering sand sea of wind-etched dunes and opal lakes, known as the Lençóis Maranhenses. In the rainy season, fresh water pools in the slacks that dissect the dunes, trapped by the impervious rock below, and form a dichotomy of scorched desert and life giving water.
The Sea Of Sand !

Check out REDBULL on Unleashed !
Video: REDBULL MEDIA
This surreal expanse of sand and water has been on wakeskaters Zuzana Vrablova and Brian Grubb bucket list for a long time: "We've talked about coming here for many years," says Brian, "and to finally see it in person is pretty amazing."
The crew was based in a camp outside the national park and to reach the lakes they must navigate a river, then off-road for two hours. When they got there, the conditions on the water were challenging with the riders having to battle stiff winds, searing heat and impossible winch lines. In Zuzana's words, "its not easy."
This was the first time that Zuzana and Brian have ridden together, but their combined experience and determination helped them forge a legitimate edit in what has to be one of the most stunning locations on the planet.
"I'm always searching for different locations and am always interested to find some epic spots to wakeskate," says Zuzana. "This place is huge!"