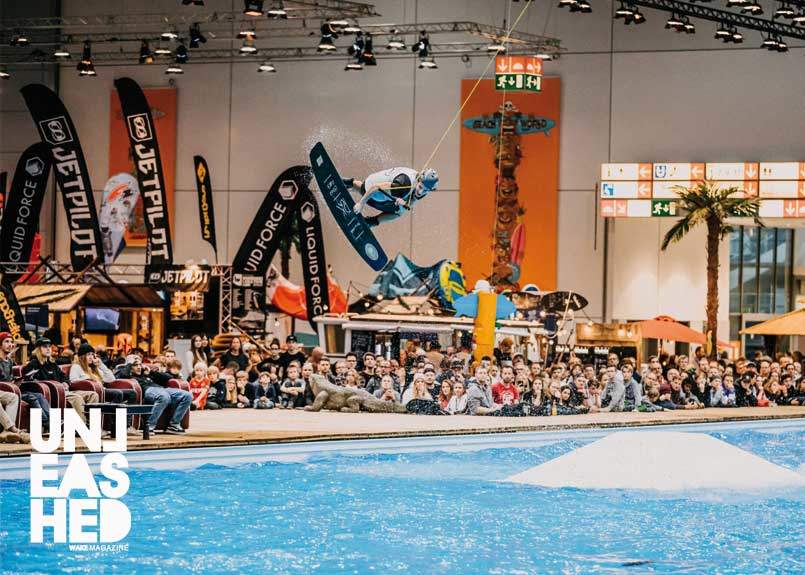 03 Feb

Boot Dusseldorf 2020 | The Boat Show !
Boot Dusseldorf 2020 | The Biggest Boat Show Ever
Boot Dusseldorf 2020 , The Wakeboard Scene is  In !   .
If you want to know exactly what's hot  to do at the Boot Dusseldorf 2020, Made a round to the hub of surfsports in Hall 8a.Each year it was a blast and specialy this year with all the watersport displayed at the best level .On this insane Hall you can find everything around watersports from the surf to the Wakeboard, and get all the best informations about the best stuff of the market and the newies of the 2020 season . At the same time you can Meet the best Pro of each disciplines , really accessible to discuss with …. Enjoy the 360 video View of  the Biggest boat show in E.U
Boot Dusseldorf , The Beach World
360° Video Use The arrows to move the View

More Video About The Boot Dusseldorf On #unleashedwakemag
Locations on  this Video : The Beach World Boot Dusseldorf 2020
Wakeboard and skimboard action lure pros and beginners
Among the trade fair highlights for the board artists at boot Düsseldorf were the legendary Cable Mekka Awards. Around 500 riders and proud members of the community plus many friends met in the Cinema Filmkunstkino, to which the organizers of The Cable magazine and boot Düsseldorf had invited for the 20th awarding of the coveted trophies. Felix Georgii (Kranzegg) and Anne Freyer (Mannheim) were presented with the "Rider of the Year" awards. Eight other awards for exceptional performances and documentaries from the wakeboard world demonstrated the diversity of this growing community. At the height of the evening, Wakeboard veteran and boot presenter Clint Liddy was moved to tears. The Australian living in Frankfurt ("The Wakeboard Voice") was honored for his lifetime achievement and said: "I never saw that coming. I am very happy that I can celebrate this matter of my heart here at boot with the entire industry." And the industry had many reasons more to be pleased, as the Brand Manager of Liquid Force Germany put it. Karsten Krey said: "I have been at this trade fair for 40 years and can say: There was a buzzing this year! For the scene, the boot Düsseldorf is the highlight in winter." The Pooltastic Wakeboard Contest in the flatwater pool was won by Nico von Lerchenfeld from Cologne, ahead of Pedro Caldas from Brazil and Germany's Max Milde. Later in the week, the finest skimboard techniques and stylish moves were presented by leading European skimboarders. Semjon Szillat and Lydia Blanke won the "Battle of the boot" for their Team Skimzone Germany. As a sporty and a private couple, both showed how versatile this Sport can be for everyone.
Wakeboard Contest Results :
Pooltastic boot Wakeboard Contest
1st :Nico von Lerchenfeld (GER)
2nd: Pedro Caldas (BRA)
3rd :Max Milde (Duisburg, GER)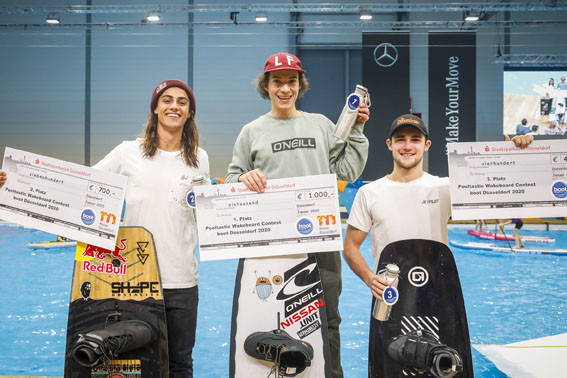 Boot dusseldorf 2020